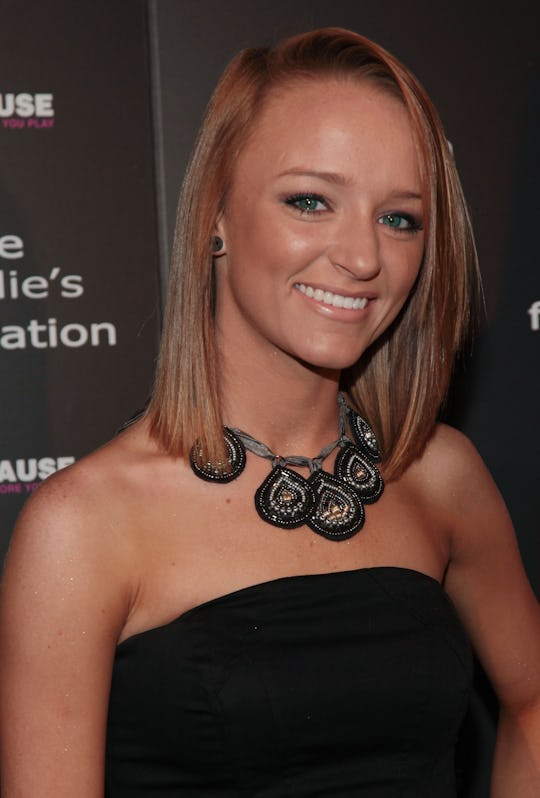 Astrid Stawiarz/Getty Images Entertainment/Getty Images
There's Definitely A Chance Maci Bookout Might Have More Kids One Day
You can't deny that some people seem like they're just born to be a parent. Raising kids and a family is what they love to do and there's absolutely nothing wrong with that! As fans have pointed out, Maci Bookout seems like one of these people, and so many are wondering: does Maci Bookout want more kids?
Maci Bookout originally made her reality television debut on the series 16 and Pregnant in 2009. The MTV series documented pregnancy and the first months of motherhood of a group of teen moms. The series eventually led to the spin-off,Teen Mom, which Bookout was apart of up until its conclusion in 2012. When the show was re-branded as Teen Mom OG, Bookout rejoined Catelynn Baltierra, Amber Portwood, and Farrah Abraham on the MTV series.
Along with her appearances on television, Bookout is a published author. In September 2016, she released her first book, Bulletproof, followed by her second book, I Wasn't Born Bulletproof: Lessons I've Learned (So You Don't Have To), in June 2017.
Bookout is currently mom to: 9-year-old son Bentley Cadence Edwards; 3-year-old Jade Carter McKinney; and 2-year-old Maverick Reed McKinney. She married Taylor McKinney on October 8, 2016. And Bookout has made it pretty clear: when it comes to kids, she wants more.
In a Teen Mom OG clip published in March 2018, Bentley can be seen asking his mother, "Remember when we were talking about adopting another kid? When are we gonna do it?"
In the midst of some recent and unaddressed pregnancy rumors, Bookout has made it pretty clear that she plans to adopt in the future. During an August 2018 Coffee and Convos podcast with two Teen Mom OG cast mates, Bookout said, according to Hollywood Life:
"We definitely still want to adopt but it's going to be down the road because we don't want to adopt a baby, we want to adopt a child. We want to make sure our family is in a really good position to do it, because adopting a child is a really big commitment."
Bookout has given a lot of thought to the process of adopting an older child, which comes with a different set of concerns than adopting a baby. According to Hollywood Life, Bookout mentioned her consideration of "how we're going to deal with and help them grow through their past and some of what they have gone through."
In a previous episode, according to Teen Mom Talk Now, Bookout discussed an adoption timeline with her husband, Taylor McKinney. When asked what kind of timeline she was considering, Bookout said, "A year, two years… But we both agreed that when we adopt, we do not want to adopt a baby. We want to adopt a child."
The couple went on to agree that they would want to adopt a child between four and six years old, as reported by Teen Mom Talk Now.
They went on to agree that they would want a child between four and six years old. Fans are definitely cheering on the couple in this pursuit. Although Bookout has recently issued a restraining order against her ex, Bentley's father, her relationship with now-husband McKinney seems to be pretty stable.
Watching Mckinney and Bookout openly discuss their plans for bringing another child into their family, and their hopes to adopt, is also really good for those tuning into Teen Moms OG. It helps to really normalize these discussions. There's definitely lingering stigma around "unconventional" families, but Bookout is showing how to make it all work!