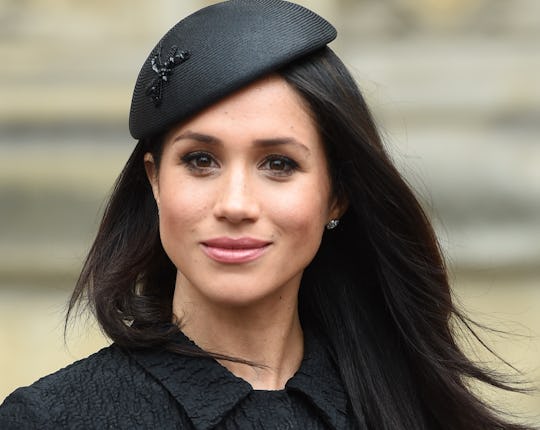 WPA Pool/Getty Images Entertainment/Getty Images
The Palace Has *Finally* Set The Record Straight On Whether Meghan Markle Will Have A MOH
With the upcoming royal wedding only a little over two weeks away, people have been speculating about the choices Prince Harry and Meghan Markle will be making for the big day. Although some things are left up to tradition, brides have been able to choose their own maids of honor in the past. As the May 19 wedding date rapidly approaches, the question of whether Meghan Markle has a maid of honor has finally been answered.
It's clear from examining previous royal weddings that picking your own maid of honor isn't out of the question. When marrying Prince William, Kate Middleton made her sister, Pippa Middleton, her maid of honor. Pippa even made headlines as she helped her sister down the aisle by holding her wedding train. Given that Markle has a sister of her own, or the option to even have her future sister-in-law, the Duchess of Cambridge, serve as her maid of honor, people were eager to see who she would pick.
The answer? Nobody.
"She has a very close-knit circle of friends and she didn't want to choose one over another," a palace spokesman said on Friday, according to People. "All have been actively involved in helping her prepare for the day and will be there in the days beforehand. She's very happy to have their support."
Can't fault Markle for not wanting to make such a difficult decision. Royal weddings aren't like traditional American weddings. There are a lot more rules and traditions Markle has to navigate, so it makes complete sense that she doesn't want to handle the additional stress of choosing just one maid of honor.
Even though Markle won't be making a maid of honor announcement, people can still look forward to hearing who will be in the rest of the wedding party. In the case of royal weddings, tradition dictates that there are usually younger attendants who serve as page boys and bridesmaids. According to People, the palace did reveal that Markle will be joined by her bridal party members before she walks into the chapel.
Right now, people are counting on both Prince George and Princess Charlotte to not only attend the wedding, but play a role within it. Previously, Prince George was a pageboy at his aunt, Pippa Middleton's, wedding. Speculation holds that Prince George will serve as pageboy at Prince Harry and Meghan Markle's wedding, too, and Princess Charlotte will be one of the young bridesmaids (or, flower girls).
The palace has previously confirmed that newborn Prince Louis will not be in attendance at this royal wedding, according to The Telegraph. Since he's still so young, he'll be staying home and out of the public eye.
The names of Markle's pageboys and bridesmaids won't be released until closer to the wedding. But, she has invited a group of friends in on an unofficial basis. The members of that inner circle might not have an official role to play, but coming along to support their friend is official enough.
Within that circle, People reported there are four members. First is Jessica Mulroney, who is among Markle's closest friends from Toronto. She is a stylist and has helped Markle coordinate her looks since before her relationship with Prince Harry.
Second is author Lindsay Roth, who, according to People, met Markle as students at Northwestern University. In 2017, Roth told People, "We're the kind of friends who can be 3,000 miles away and still be talking about or thinking the same thing, and even texting each other the same thing at the same time miles away." A few years ago, Markle was actually Roth's own maid of honor.
Third is Misha Nonoo, a fashion designer rumored to have been the matchmaker that set up Prince Harry and Markle on a blind date in July 2016, according to The Sun. And last is actress Priyanka Chopra, who admitted she hasn't found a dress yet, although that isn't what's stressing her the most. "I'm more stressed out about those little hats! How do those things stay [on]?" she said on Watch What Happens Live with Andy Cohen on Thursday, as ABC News reported.
It's going to be exciting to see what traditions Prince Harry and Markle keep on the day of their wedding and who ends up in the wedding party. But, for now, it's nice to see that Markle has a solid group of friends to help her prepare for such an important day.
Check out Romper's new video series, Bearing The Motherload, where disagreeing parents from different sides of an issue sit down with a mediator and talk about how to support (and not judge) each other's parenting perspectives. New episodes air Mondays on Facebook.