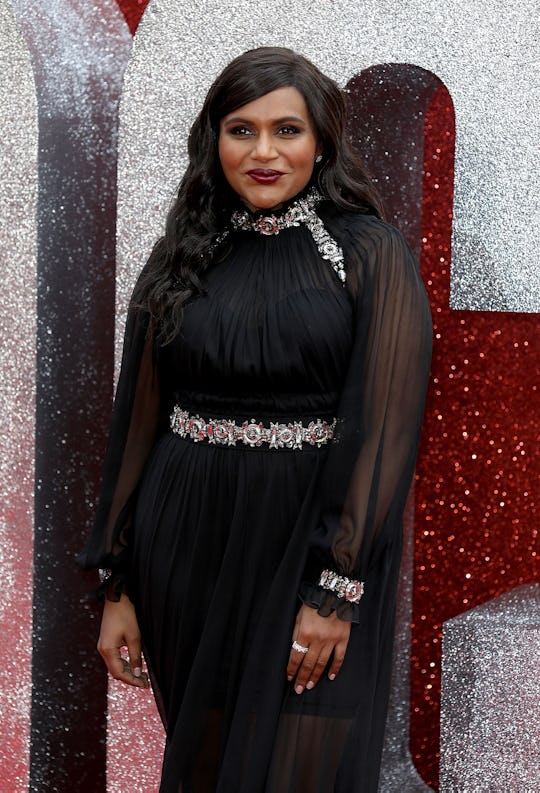 Tim P. Whitby/Getty Images Entertainment/Getty Images
Mindy Kaling Isn't In Any Rush To Have More Children
From the sounds of it, becoming a mother for the first time was a pretty big adjustment for actress Mindy Kaling. For one, Kaling has admitted that she wasn't exactly a big fan of babies before having her own, and though she had previously stated in interviews that she was open to the idea of becoming a mother one day, her pregnancy was reportedly a surprise (she hasn't revealed the identity of her daughter's father, and left his name off of her birth certificate entirely, according to Page Six). These days, she's rocking single motherhood, but does Mindy Kaling want more kids? She hasn't actually indicated her feelings about expanding her family, but based on what she has said about her life as a mom, it sounds like she could go either way.
Kaling gave birth to her daughter, Katherine, in Dec. 2017, according to People, and earlier this year, she told late night host Stephen Colbert that the experience of becoming a mother had been "really profound and strange." For one, she admitted she used to always feel uncomfortable around babies, and that she'd actually find it super annoying to be on an airplane with a crying infant. Her daughter's arrival though, gave her a totally new outlook — and now, eight months later, she's pretty much gone full-mom, posting homemade baby food videos to Instagram, and crying over the lyrics to Rod Stewart's "Forever Young" (I feel you, Mindy).
The one thing that does seem pretty clear about Kaling as a parent? As much as single motherhood can definitely be challenging, she's also totally loving being Katherine's mom. When her daughter was 2 months old, Kaling told Entertainment Tonight that "[getting] her to smile first thing in the morning" was "the best feeling," and in April, she told TODAY's Hoda Kotb that her daughter is always on her mind, even when they're not together. According to People. Kaling said,
She bleeds over into all parts of my life. Sometimes I find myself staring at my phone at a photo of her in a meeting. I'm just looking lovingly at a photo and everyone's like, 'What are you doing?' I don't know … it's a great feeling.
In fact, while giving a commencement speech to the 2018 graduating class at Dartmouth in June, Kaling said that, while she was nervous about the prospect of navigating new motherhood without a partner, according to Elle, even that turned out to be much different than she was expecting. Kaling explained,
After my daughter was born in December, I remember bringing her home and being in my house with her for the first time and thinking, 'huh. According to movies and TV, this is traditionally the time when my mother and spouse are supposed to be here, sharing this experience with me.' And I looked around, and I had neither. And for a moment, it was kind of scary. Like, 'Can I do this by myself?'
But then, that feeling went away, because the reality is, I'm not doing it by myself. I'm surrounded by family and friends who love and support me. And the joy I feel from being with my daughter Katherine eclipses anything from any crazy checklist.
In other words, it sounds like if Kaling did decide she wanted to expand her brood, she already has tons of proof that she would be more than capable of handling it, and that she'd probably be just as much in love with any potential future children as she is right now with Katherine. But based on her attitude prior to getting pregnant, it seems like she might not really be planning on thinking too much about it.
In a 2015 interview with E! News, for example, Kaling said that she wasn't going to "actively plan," to have children necessarily, but added "if it [happened], it would happen." It *did* happen, and it sounds like that strategy has worked for the best, so it makes sense that she probably would want to continue taking a relaxed approach to the idea of having more children. But if she were to decide, perhaps, that she was more than happy to be "one and done," well it doesn't sound like she'll be missing out then, either.
The reality about thinking about having or not having more children, is that it can often be a really complicated and personal question. And even if you think you know what you'd like to do, the truth is that the decision isn't always completely within your control. Given that Kaling has already made it pretty clear that there are certain aspects about her private life that she wants to keep under wraps (she doesn't even share photos of her daughter on social media), it makes total sense that she wouldn't necessarily want to offer up her view on having more kids. And I can't particularly say that I blame her.