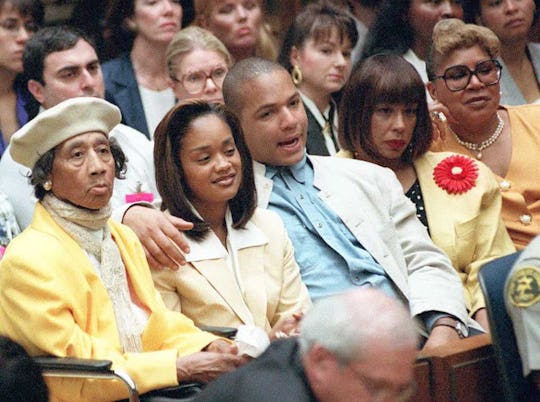 Getty Images
Does OJ Simpson's Mom Think He's Innocent? She Stood By Her Son Through It All
True crime stories are having a moment right now, from HBO's The Jinx to Netflix's Making A Murderer. The latest true crime tale to titillate America's guilty pleasure is Ryan Murphy's The People v. O.J. Simpson: American Horror Story on FX. The show has gathered critical acclaim and already broken viewership records for the cable channel in just the first week since its premiere. With such an intimate look at the case — however dramatized for television — fans have been left to wonder: does O.J. Simpson's mom think he's innocent? Sadly, Eunice Simpson died in 2001, so there's no way to ask her what she thinks of the show that's revived a 22-year-old case in the minds of the American public.
Simpson's lawyers have not responded to Romper's request for comment regarding his alleged involvement in ex-wife Nicole Brown Simpson's murder, for which he was ultimately acquitted.
In Tuesday's forthcoming episode at 10 p.m., The People v. O.J. Simpson will feature the now-infamous slow-speed police chase with an emotionally distraught Simpson (played by Cuba Gooding, Jr.) in the backseat of a that famous white Ford Bronco, holding a gun to his head. It was widely reported that Simpson spoke to his mother on the phone after the chase before he was taken into police custody.
Eunice Durden Simpson, Simpson's mother, was born in San Francisco, California, in 1921. She married Jimmy Lee Simpson and would go on to have four children with him: Melvin, Shirley, Orenthal, and Carmelita — the pair then separated in 1952, leaving her a single mother with four children to care for in the projects of San Francisco. Simpson developed rickets and was forced to wear leg braces until he was 5 years old.
At Simpson's trial in July 1994, his mother testified that she gave her son "tender loving care" when he dealt with rickets as a child. Her testimony in July 1994 regarding her son's character was brief, lasting only 20 minutes on the stand. Still, Durden Simpson was a constant presence at her son's trial, seated in the gallery — as seen below in this photo (pictured left with daughter Carmelita, right).
In September 1994, Durden Simpson gave one of her only televised interviews to CBS journalist Connie Chung, on her program Eye to Eye. In an Oct. 1994 issue of Jet Magazine that recapped the interview, Durden Simpson said that "she has discussed her son's innocence or guilt with him and she said that he said he is not guilty." When asked about the Bronco chase, Durden Simpson told Chung, "O.J. has never been a coward to run. I just think he was wanting to get to me because he thought I could solve the problem."
On Oct. 3 1995, when the verdict was read aloud that her son was acquitted, Durden Simpson told reporters: "I knew that my son was innocent. I kept the faith."
Beyond the few statements she made to the press and her testimony at her son's 1994 trial, Simpson didn't really speak of her son's alleged involvement in the murder of Brown Simpson and Ronald Goldman. From all appearances, it seems as though Simpson believed her son was innocent. Whether or not The People v. O.J. Simpson will dramatize that fateful post-chase phone call with his mother remains to be seen.
Simpson is currently serving a 33-year sentence in a Nevada prison for a 2007 armed robbery.