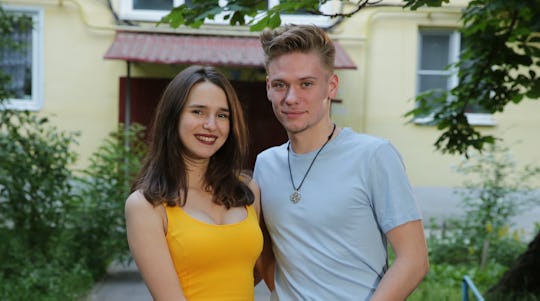 Courtesy of TLC
Here's What Happened To '90 Day Fiance' Star Olga's Instagram
Steven and Olga are one of 90 Day Fiancé's most interesting couples this season. After a brief romance last summer, the 20-year-olds welcomed their first son this past March. Fans are curious to know if the couple is still together, and the best way to find that out in 2018 is through Instagram, of course. So, does Olga from 90 Day Fiancé have an Instagram?
Just last week, I perused Olga and Steven's Instagram pages, which were littered with sweet photos of each other, as well as a slew of maternity photos from Olga's pregnancy. However, as of Friday, Nov. 2, they both set their profiles to private, so the photos are not viewable anymore. Womp womp.
If you were hoping to keep up with Olga via social media, it's not all bad news. Her private Insta account's bio links to her new photography account under the handle @koshimbetovaphoto. The page's first photo was just posted two weeks ago, and it features a handful of artsy portraits.
Although fans may be bummed that Olga and Steven set their Instagrams to private, the move is totally understandable, considering the fact that their lives were suddenly thrust into the public eye thanks to 90 Day Fiancé.
Making their Instagrams private is also the kind of move that may make fans wonder if Steven and Olga's relationship is faltering. However, there are a few signs that their relationship is totally fine. For example, Steven's profile photo on Insta is a selfie of him and Olga, topped off with a pink hearts filter.
Still, 90 Day Fiancé viewers do have good reason to be skeptical about the state of Steven and Olga's relationship. In this season's trailer, a scene shows Steven, Olga, their little boy, and a friend of Olga's together. "Are you here for child, or for Olga?" Olga's pal asks Steven. "It wouldn't have happened without the baby," Steven responds. Then in a confessional, he tells the camera: "I don't know if I'm ready to be married for the rest of my life."
The trailer also shows the couple getting into a fight while Steven drives Olga and their baby boy. "You're not gonna tell me not to touch my son," Steven declares. A crying Olga responds that Steven is being "crazy."
In case you need a refresher on Steven and Olga, here's the couple's backstory according to their bio on the TLC website. Olga met Steven when she spent a summer abroad in the United States. She is originally from Russia, and Steven is from Maryland. Olga and Steven's summer romance resulted in her finding out she was pregnant about six weeks after they met. After returning to Russia, Steven proposed to Olga, which prompted her to move back to Maryland so they could raise their son together. Steven was passionate about staying with Olga so that he could be a part of his son's life, since his own father died when he was 7 years old, as explained by TLC.
Hopefully a few family portraits will make their way onto Olga's photography account soon — but if not, there's a new episode of 90 Day Fiancé every Sunday.