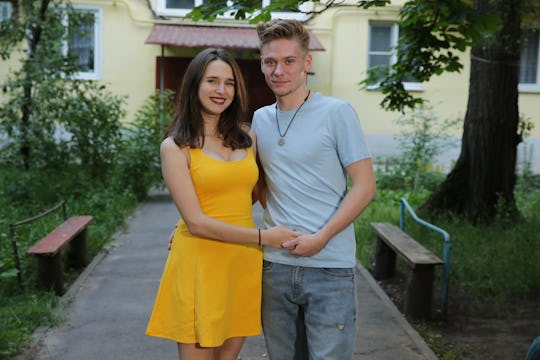 Courtesy of TLC
Here's What To Know About Steven & Olga's Baby On '90 Day Fiance'
90 Day Fiancé is the kind of reality show that always leaves viewers with a lot of questions. The show's latest season has just premiered, and there's one couple who fans are already particularly curious about, since they already have a baby together: Steven and Olga. So, when was Steven and Olga's baby born on 90 Day Fiancé?
Steven, 20, is from Maryland, and Olga, 20, grew up in Russia. As explained in the couple's bio on TLC's website, Steven and Olga met when Olga was spending a summer in the United States. The two had a summer fling that quickly turned into something that would affect the rest of their lives. A month and a half after meeting Steven, Olga found out she was pregnant. She returned to Russia, and the two stayed in touch. Steven proposed to Olga, and she decided to move back to Maryland so they could raise their baby together.
The show just began airing, but that doesn't mean there aren't clues about their baby on the internet. On April 20, 2018, Olga Instagrammed a maternity photo of herself. In the photo's caption, which was in Russian, Olga revealed that her baby boy was born one month prior, meaning he was born on March 20, 2018.
So this would mean that Olga and Steven conceived their son in June. This lines up with the timeline of her and Steven's summer romance, which occurred in the summer of 2017. Steven confirmed this in an Instagram post earlier this month. Alongside a photo of the two of them kissing on what looks like a beach, he wrote, "17' was just the start ... love you darling."
On 90 Day Fiancé, Steven and Olga got real about the fact that they may not be getting married if it weren't for their baby. In the trailer for this season, Steven, Olga, their baby, and Olga's friend are seen sitting in a park together. "Are you here for child, or for Olga?" Olga's friend asks Steven. "It wouldn't have happened without the baby," he responds. OK, that's definitely not an ideal response, but props for honesty, I guess? He's only 20 years old after all. "I don't know if I'm ready to be married for the rest of my life," he tells the camera in a confessional.
That's not the only time the couple will butt heads this season. In another scene previewed in the trailer, Steven is driving a car, while Olga cares for their baby in the back seat. "You're not gonna tell me not to touch my son," Steven tells her, to which Olga responds that he's acting "crazy," with tears in her eyes.
That said, there are plenty of things that the couple has going for them. For example, both Steven and Olga's Instagrams are filled with photos of the two of them. In July 2017, shortly after the two got together, Steven shared a sweet photo of the pair, captioned, "not your ordinary girl..."
And in honor of her bae on Valentine's Day of this year, Olga shared the same kissing photo that Steven shared last summer.
Olga and Steven will inevitably face more challenges during this season of 90 Day Fiancé, but it will be so exciting to watch them explore early parenthood together.