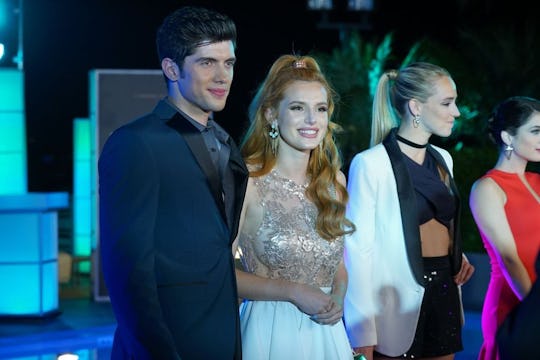 Byron Cohen/Freeform
Paige Has A Big Decision To Make On 'Famous In Love'
Warning: this post contains spoilers from the Season 1 finale! Considering the fact that the entire first season of Famous In Love is currently available for streaming on multiple platforms, odds are several of you out there (including yours truly) who have already made it to the finale, rather than wait for a new episode to debut on Freeform each week. And if that's the case, then you know that the show left us with multiple cliffhangers, including a big decision Paige will have to make. So does Paige choose Rainer or Jake on Famous In Love? Hopefully the show gets picked up for a second season; otherwise fans may never know for sure.
While a majority of the season honed in on Paige's rise to stardom, the love triangle between Paige, Jake, and Rainer always existed in the background — even though Paige has managed to dodge officially starting things with either guy. And honestly, I applauded her decision on that front. Her life just took an unexpected turn. Why should she feel obligated to tie herself down in any way, shape, or form right now? However, the finale put her in an awkward position that I'm not sure she'll be able to get out of without choosing one guy over the other.
But let's backtrack for a second here: soon after Paige left Jake a voicemail, reprimanding him for never being honest with her about his true feelings, she met up with Rainer and promised to be there for him during a press conference where he was sure to get grilled about his latest drunken exploits. Naturally, one of the reporters brought up the nature of Paige and Rainer's relationship. Were they dating? And just as Paige was about to answer, Jake appeared, proclaiming his love for her. Will she go to Jake and finally turn their friendship into something more, or will she stay by Rainer's side in his time of need like she promised? This is the struggle she (and viewers) are now faced with.
Personally, I've always love Jake right from the start. He clearly has cared about her long before she was famous, not to mention he knows who she really is. Despite a few heart-to-hearts, how much does Rainer know about her? The relationship between Paige and Jake feels more genuine, so I'm hoping she goes with her heart and doesn't just stay by Rainer's side out of obligation. That just wouldn't be fair to any of them.