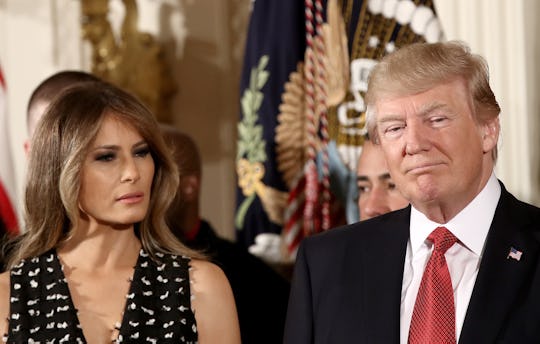 Win McNamee/Getty Images News/Getty Images
Does President Trump Have His Own White House Bedroom?
With Barron Trump out of school, first lady Melania Trump was finally able to join President Donald Trump at their 1600 Pennsylvania Avenue address last week. Despite all the prying into Melania's design choices, some details about the Trumps' housing situation are still unknown. Many are wondering: Does President Trump have his own bedroom in the White House, or do the two prefer to share one space? The first couple hasn't yet clarified the matter.
The rumors started swirling when multiple sources told Us Weekly that Trump and Melania always have their own bedrooms, no matter if they're sleeping in the same city or in different ones. Romper reached out to the White House concerning these claims, but did not receive a response. Regardless of their arrangement: How outrageous is the notion of separate bedrooms, really, especially when the couple can certainly afford the luxury of a little extra elbow room? What's more, other presidential, royal, and high-power TV couples have followed the same decorum, so the "separate bedroom" outrage may be for nothing.
Go back a ways and you'll read that Abraham and Mary Todd Lincoln had in their own White House bedrooms. John F. Kennedy also had his own room, with Jackie Kennedy sleeping elsewhere. Across the pond, the current queen, Elizabeth II, and Prince Philip sleep in rooms of their own at Buckingham Palace. In explaining why, Lady Pamela Hicks, Elizabeth's cousin, reasoned: "You don't want to be bothered with snoring or someone flinging a leg around. ... It is lovely to be able to choose."
Another powerful, presidential couple insistent on separate spaces? Frank and Claire Underwood in House of Cards. Sure, they may not be the best barometer for marital bliss, but they are an example of a successful, driven team.
Celebrities take their time apart, too. Tim Burton and Helena Bonham Carter have revealed that they prefer sleeping apart. On the other hand, some famous couples who preferred their separate sleeping arrangements didn't stand the test of time in the end, Brad Pitt and Angelina Jolie and Tom Cruise and Katie Holmes among them.
The National Sleep Foundation found that anywhere from 11 to 23 percent of couples who live together choose to sleep apart. As you might guess, sleeping separately yields sounder sleep most of the time. When you're predisposed to toss and turn — or need to type out a late-night Twitter rant — your partner would certainly appreciate the separation.
Despite all the stigma, lots of couples enjoy their own spaces. Nights apart are not necessarily an indicator of marital trouble, and the president and first lady certainly need their rest.