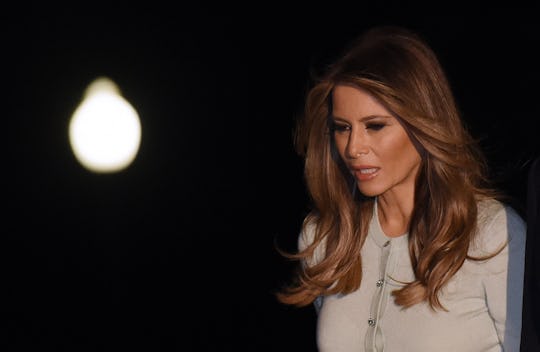 Pool/Getty Images News/Getty Images
Does Melania Trump Have Her Own White House Bedroom?
Soon after Donald Trump assumed the presidency in January, rumors began to swirl that his wife, Melania, had no plans to join him in Washington, D.C. Instead, the rumor mill said, she and the couple's young son, Barron, would remain in their Manhattan penthouse, where they did live until the 11-year-old finished his school year in June, nearly five months after Trump's inauguration. Now, the first family is, despite the speculation, reunited under the White House roof. But the public has no real way of knowing whether vestiges of their unorthodox, distant living arrangement will linger. So, whether Melania Trump has her own bedroom in the White House is a mystery — but there's some presidential (and royal) precedent for such an arrangement.
Melania and Barron officially relocated to their new digs June 11, right after Barron wrapped up his fifth grade school year. News that the first lady would have her own "glam room" to prep her look for appearances and that she would work with renowned designer Tham Kannalikham to redecorate the living space at 1600 Pennsylvania Avenue precipitated her arrival. And so did yet another rumor: that she and Trump allegedly "have separate bedrooms" and "never spend the night together — ever," as an unnamed "Trump insider" reportedly told Us Weekly in March. (Romper reached out previously to the White House concerning allegations about the couple's marital life, but did not receive a response.)
On the other hand, a representative decried this account as "fictional," according to the magazine. Still, if it were the case that the president and the first lady sleep separately, they'd hardly be the first White House occupants to do so. According to The White House Museum, President Abraham Lincoln and his wife, Mary Todd Lincoln, spent their nights in different rooms. A bit more recently, one iconic presidential couple also maintained separate bedrooms: John F. Kennedy and his wife Jackie Kennedy, according to Business Insider.
Another famous couple known for catching their Zs with at least one wall between them? Queen Elizabeth II and Prince Philip of England. And while sleeping separately is generally regarded as a sign of an unhappy marriage (which may or may not be true) in the United States, that's not necessarily the case across the pond. The queen's cousin, Lady Pamela Hicks, explained the British perception back in 2011, according to The Daily Mail:
In England, the upper class always have had separate bedrooms. You don't want to be bothered with snoring or someone flinging a leg around. Then when you are feeling cozy you share your room sometimes. It is lovely to be able to choose.
Surely, if there's one thing that the Trumps definitely consider themselves, it's upper class. After all, the assertion that he's a rich, rich billionaire has long been one of Trump's very favorite refrains, and Melania famously posed pretending to eat jewels like spaghetti on the cover of Vanity Fair México shortly after her husband's inauguration.
Whatever sleeping arrangement those two have settled on, it must be glamorous.