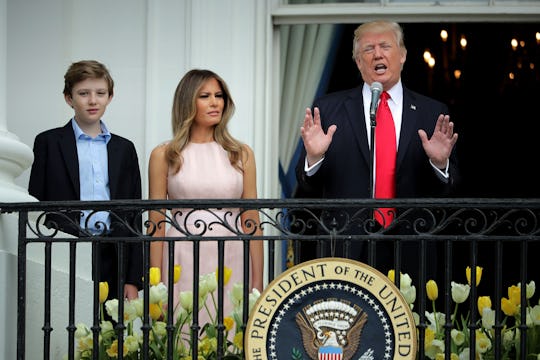 Chip Somodevilla/Getty Images News/Getty Images
Melania & Barron Officially Live In The White House
On Sunday, the Trump family was reunited under one roof once again. After nearly five months of officially living apart from President Donald Trump, his wife, Melania, and youngest son, 11-year-old Barron, relocated from their Trump Tower penthouse in New York City to the White House. It was a break from presidential tradition that the first family had opted to finish out Barron's school year in Manhattan before heading to the nation's capital, but photos of Melania and Barron moving to the White House indicate that a new chapter in the personal aspect of Trump's presidency has arrived.
In true Trumpian fashion, Melania announced that the planned move had happened in a Twitter post. "Looking forward to the memories we'll make in our new home!" she wrote, sharing a photo of the Washington Monument taken from a window in the White House and tagging the post "#Movingday." Of course, the first family didn't have to worry about much of the heavy lifting normally associated with #Movingday for most people, so the photos of them arriving at their new home show a family taking a leisurely walk on the White House lawn.
Melania and Barron (as well as Melania's parents) arrived at the White House on Marine One along with Trump, who was returning from his weekend at Bedminster golf resort in New Jersey, according to Politico.
Barron wore a shirt that read "The Expert" and walked alongside his parents as the three disembarked from the plane at their new digs. (Earlier, when they landed in Washington, D.C., on Air Force One, he was reportedly fiddling with a fidget spinner as he walked down the stairs behind Melania and Trump.)
According to The Washington Post, Melania's decision to live apart from her husband for the first part of his presidency "flouted the most basic of all first lady traditions." Aside from the public outrage over the taxpayer cost of her and Barron living separately from Trump, there has been speculation that the Trumps do not have the happiest of marriages. Reports that they sleep in separate beds even when they are in the same residence have also surfaced, but there's really no way to know for sure what's going on inside their relationship. The reports about the negativity in the Trumps' marriage are unconfirmed, of course, and Romper has reached out to them for clarification on these issues. At least Trump and Melania are seen holding hands in the moving pictures — an arrangement she hasn't always seemed so keen on.
Melania hasn't been seen much around the White House during the early months of her husband's presidency, and she has not started on any advocacy projects, as it traditional of first ladies, The Washington Post reported. It's likely that actually being in the White House will thrust her into the spotlight more, at the very least; so it's lucky for her that she will reportedly have her own "glam room" to make sure her look is just so each day.
As for Barron, his move to the White House is significant because it makes him the first boy child to live there since his John F. Kennedy, Jr., did in 1963, according to CNN.
Now that Melania and Barron are living at the White House, the public can probably expect to see even more of them in the months and years ahead.