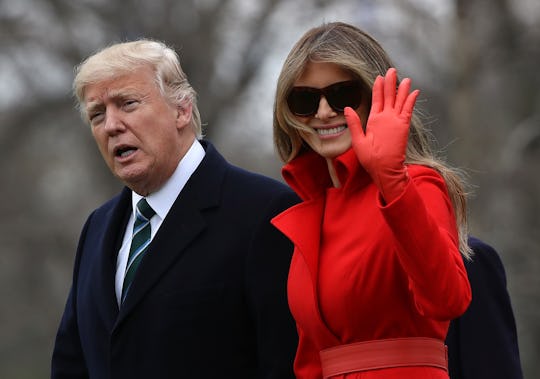 Justin Sullivan/Getty Images News/Getty Images
Here's How Much Melania Trump's Security Costs
When major budget cuts are proposed that will cut funding to essential services like Meals on Wheels, arts programs in public schools, and the EPA, the cost of keeping Melania Trump protected in Trump Tower suddenly becomes a matter of national importance. More specifically, the question of how much Melania Trump's security detail costs while she steadfastly remains in New York has moved far beyond the rumor mill and into the current political debate. After all, you can't ask elderly citizens to give up meal services and then not divulge just how much it's going to cost to keep family homes in three major cities.
When President Donald Trump was elected last November, his wife made it clear that she would be remaining in Trump Tower with the couple's 11-year-old son Barron at least until he was done with school for the year in June. But as reports of the cost of keeping a full-time security detail at Trump Tower to protect the first lady and her son began to come out, public outcry grew to a clamor. According to the New York City Police Department, it has cost the taxpayers an average of $127,000 to $145,000 per day to keep Melania and Barron Trump in New York. By the time the Trumps vacate Trump Tower in June, the tallied amount is projected to hit $8.6 million.
Romper reached out to the White House for comment but did not immediately hear back.
Thankfully for taxpayers, things are changing, with the first family moving to D.C. this summer for good, as mentioned, but that hasn't done much to soothe tempers or quell criticism. Understandably, taxpayers have started to make the connection between the cost of Melania Trump's security detail and the programs being slashed by Trump's proposed budget.
For instance, the new Trump budget (dubbed America First: A Blueprint To Make America Great Again) suggests the Trump administration might cut funding to the National Endowment for the Arts completely. Then there's the Meals on Wheels programs, which delivers food to seniors who are home bound all over the United States, as well as the Corporation for Public Broadcasting (so long, Arthur, Thomas the Tank Engine, and Daniel Tiger). Stacked up next to whatever costs have been incurred to house Melania in New York, as well as Trump's many weekends away at his Florida Mar-a-Lago estate, you can see why some might be upset.
Fortunately, with Melania and young Barron reportedly moving into the White House in June, taxpayers won't be forking over as much funding in terms of Secret Service protection, and building security (after all, two households are cheaper than trying to keep three — that's counting Mar-a-Lago). Sure, Melania reportedly has a "glam" room at the White House and yes, the first family will likely continue to spend an inordinate amount of time at the place Trump calls "The Winter White House." But for now, keeping costs down, even a bit, helps.
(Whether that money might get funneled back into the budget to save some of the well-respected arts and science programs Trump has laid out on the chopping block remains to be seen.)