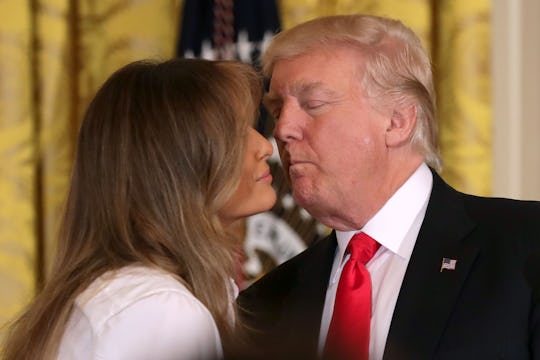 Chip Somodevilla/Getty Images News/Getty Images
Melania Does NOT Want To Hold Trump's Hand — VIDEO
A weird and confounding image of the president gripping a glowing orb in Saudi Arabia dominated the meme-ified news cycle Sunday, but that was yesterday. On Monday, video of Melania Trump swatting away Donald Trump's hand on a tarmac in Israel was the new awkward internet darling from the pair's first international trip of his presidency. When it came to the orb, which Trump held along with Saudi King Salman bin Abdulaziz, and Egyptian President Abdel Fattah el-Sisi, no one really knew what to make of the bizarre-seeming situation. But some felt that they knew exactly what Melania's swat — or slap, or flinch — meant as soon as the brief footage hit the internet: that the first lady really, really does not like her husband.
Although there's obviously no knowing for sure what goes on between the two in private (when they are together, because right now they're living apart), this is not a baseless hypothesis. For example, whoever runs her official FLOTUS Twitter account recently faved a tweet referring to the metaphorical emotional distance between the couple; she's rebuffed a high-profile hand-holding attempt of his before. And when he denied him this time, it was gloriously without regard for the reporters, photographers, and videographers present who would inevitably run with the story. Behold:
Swat-gate unfolded right after Trump and Melania arrived at Ben Gurion International Airport near Tel Aviv and prepared to join Isreali President Benjamin Netanyahu and his wife, Sara, for a photo op. They're even strolling down a red carpet! It's then that Trump makes his move, perhaps having noticed that the other president is already holding hands with his wife, as one would expect in such a situation. He turns, because Melania is trailing a pace or two behind him, and offers his hands. Melania sure does not appear to want anything to do with it, or him. Cool and aloof behind her sunglasses, she hardly even looks at him and never breaks her stride.
The internet at large was delighted.
There was the inevitable comparison to how Melania reacted to Trump and how much of the country feels about him, too:
And could we really have a Trump hand-holding controversy without resurrecting the ongoing gag about his hands being a tad... undersized?
But perceiving animosity between the president and his wife just made some nostalgic for presidencies past (or, more specifically, one past presidency):
Seriously, you just can't make this stuff up. And with five days of the international trip left, it's pretty much a sure thing that another awkward, potentially embarrassing Trump situation will emerge.