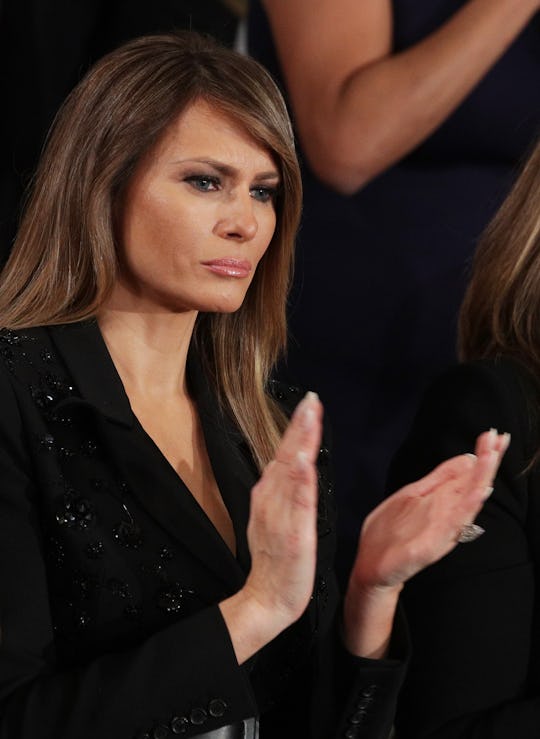 Alex Wong/Getty Images News/Getty Images
What's Up With Melania Not Moving To The White House?
First Lady Melania Trump has been under intense scrutiny in recent months. When President Donald Trump moved to the White House in January, Melania didn't follow. Instead, she remains based in Trump Tower in New York, where her 11-year-old son Barron is going to school. While Melania will reportedly be moving to the White House in June at the end of Barron's school year, some critics don't think it's soon enough and are wondering why Melania doesn't want to live in the White House. After all, it's supposed to be pretty nice in there, I hear.
Melania has said very little about her decision to stay in New York for the time being; the 46-year-old Slovenian former model will reportedly "absolutely be moving to the White House" with son Barron in June, according to TMZ. Sources close to the first lady told the news outlet that she wanted to make sure that Barron was able to finish out the school year in New York, which is why she chose to stay after her husband moved to the White House in January. While many parents will certainly understand Melania's decision to put her child first, some are wondering if the cost of her decision is simply too high. A recent article by The New York Times reported that the estimated cost of extra protection for Melania and Barron at Trump Tower is between $127,000 to $145,000 per day.
Could there be another reason for Melania's reticence about moving to the White House beyond Barron's well-being? Vanity Fair reported that the new first lady is notoriously press-shy, which could make living in the White House (which has its own photographer for the first family) uncomfortable, of course. And considering her husband's natural talent to create news every day of the week... well, one could see how diving into the political forum might feel overwhelming for someone with no political background nor any real passion for the life of a politician.
Whatever Melania's reason might be for not wanting to move to the White House, many taxpayers have had enough. In the wake of the Trump Administration's proposed budget for 2018, which looks to cut funding to essential programs like Meals on Wheels and the National Endowment for the Arts, the cost of protecting Melania while she and Barron live away from the White House has been called into question. A petition has been started at Change.org urging her to either move to the White House or pay for the security detail out of the Trump family's pockets. More than 206,000 people have signed the petition, and once it has 300,000 signatures it will be delivered to Democratic Sens. Bernie Sanders and Elizabeth Warren.
After all, Melania knew of her husband's White House run in the summer of 2015, and she knew that he had been chosen as the Republican nominee in the summer of 2016, so she's had plenty of time to prepare Barron and make the necessary arrangements to move to the White House on time, as every other first family has done before her.
And, there's a silver lining to Melania Trump's impending move to the White House; she gets to redecorate and is even reportedly getting a "glam" room, according to Vogue. So that's not so bad, right?