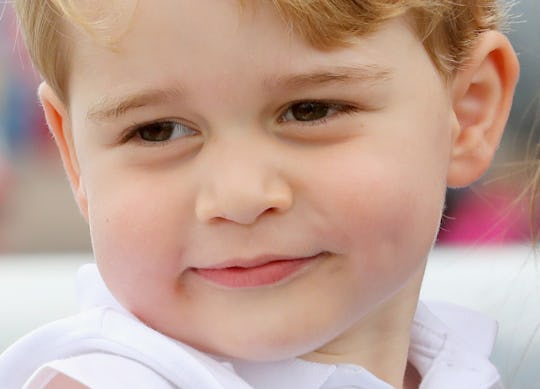 Chris Jackson/Chris Jackson Collection/Getty Images
It Sounds Like Prince George Has Had Some Pretty Cute Nicknames Over The Years
If you're not officially obsessed with the royal family right now, then I'm sorry, but you're really missing out. Between Prince Harry and Meghan Markle's royal wedding, the birth of Prince Louis, and Prince George reportedly taking horseback riding lesson... well, there's just so much to keep up with and so much to be entertained by these days. But what about those little details? Those smaller facts that'll save you on trivia night and the ones that'll make you feel like you know these royals just a bit better? Like does Prince George have a nickname and do his parents, Prince William and Kate Middleton, have some cute pet names for their firstborn?
Well, the little prince doesn't appear to have one official nickname. But if various reports are to be believed, then he's been called something other than George by those closest to him. Although the 4-year-old doesn't have a well-known nickname, according to Hello! Magazine, the young royal's parents had a pretty cute name for their little boy before he was even born. According to Hello! Magazine, the Duke and Duchess of Cambridge reportedly called Prince George their "little grape" while she was pregnant with him in 2013. Yeah, pretty cute, isn't it?
Aside from his parents reportedly calling him their "little grape," a few other nicknames for Prince George have floated around over the years. Because even though he's a prince and is in line to the throne, Prince George is one adorable kid who still probably gets his cheeks pinched and his hair fluffed by adults all the time. It's only natural to come up with some endearing and sweet names for him, right?
Well, some have been revealed. For example, his parents have reportedly called Prince George "PG Tips" after a popular brand of tea in the United Kingdom, according to The Mirror. "Pals started calling Prince George PG, so the couple took the next logical step and dubbed him Tips," The Mirror explained.
But that's not all; according to the Daily Mail, after Middleton gave birth to Prince George, they both were granted nicknames of sorts in order to better keep track of their whereabouts. "Kate has now apparently been given the moniker MC (Mother Cambridge), while her baby is PC (Prince Cambridge)."
And there's also the nickname Prince George's grandpa, Prince Charles, gave the little royal when he was first born in 2013. According to The Telegraph, Prince Charles was very fond of the nickname "Georgie" for his grandson. Prince Charles said in July 2013, soon after his grandson was born, that George was "a very good name," according to The Telegraph, and joked that the little prince would "be known as Georgie in no time."
Super cute and super fitting. But, personally, I don't think there's anything hardly as endearing (or original) as "little grape" for Prince George.
As far as Prince George's siblings — 3-year-old Princess Charlotte and newborn Prince Louis — are concerned, it's unclear if the newest prince has a nickname yet (he is only 1 month old), but his sister could also have a bunch, such as Char and Lotte, according to TIME.
Although the royal family has not confirmed whether the youngest of the bunch have official nicknames, Middleton did once confirm that Prince George gifted his great-grandma, Queen Elizabeth II, with a super cute one. "George is only two-and-a-half and he calls her Gan-Gan," she reportedly revealed, according to ELLE.
Prince George is nearly 5, so who knows if he still refers to the queen as "Gan-Gan," but that seems like one of those nicknames that sticks for life. As for him, it seems like the royal family has played with a bunch of options over the years and hopefully they'll share one day which one has stuck.