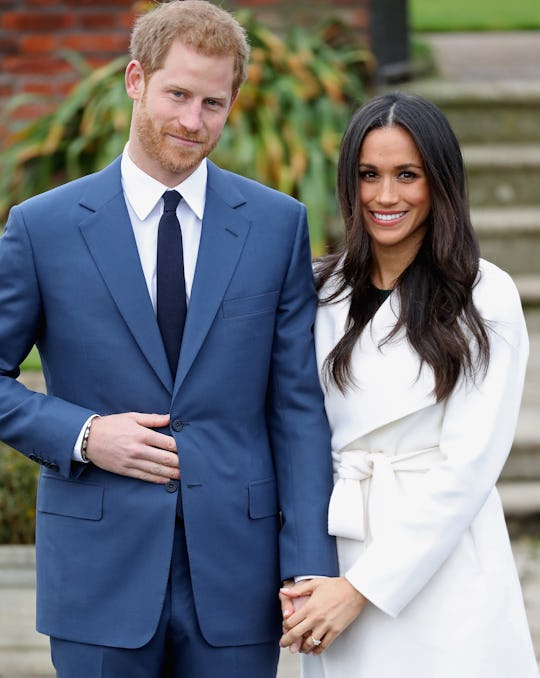 Chris Jackson/Getty Images Entertainment/Getty Images
Does Prince Harry Call Meghan Markle Rachel? Her Birth Name Is Beautiful
As Royal Wedding fever has spread across the land (hear ye, hear ye!), just about every detail of Meghan Markle's life has been scrutinized in public. (Sounds like super fun!) One such interesting detail is Markle's birth name, which isn't actually Meghan. Her "real name" will come into play during the ceremony, but the real question is: Does Prince Harry ever calls Meghan Markel "Rachel?"
Yes, that's right! The bride's birth name is Rachel Meghan Markle, according to Yahoo! News, and this is how she'll be referred to during the ceremony. Kensington Palace confirmed this when they released the official wedding "order of service," a 22-page document that outlines everything planned for Saturday, from the music, to the prayers, processions, and the readings taking place in St. George's Chapel. In this order of service, it's written that the Dean of Windsor's speech includes this opener: "In the presence of God, Father, Son, and the Holy Spirit, we have come together to witness the marriage of Henry Charles Albert David and Rachel Meghan."
Obviously, Markle prefers to go by her middle name, but for an official event like this (does this seem like the Most Official Wedding Ever?), it makes sense that her legal, birth name comes into play!
In fact, the Queen used Meghan's given name, Rachel, in her official "consent letter", which stated:
"I declare My Consent to a Contract of Matrimony between My Most Dearly Beloved Grandson Prince Henry Charles Albert David of Wales and Rachel Meghan Markle, which Consent I am causing to be signified under the Great Seal and to be entered in the Books of the Privy Council."
And here's that letter again, in super fancy style!
Now, according to MSN, Meghan has always been called Meghan, even before she became an actress, so it's hard to imagine that her beloved Prince Harry calls her Rachel. He certainly refers to her as Meghan in public ... for example when he's sharing sweet details like, "The fact that I fell in love with Meghan so incredibly quickly was a... was sort of confirmation to me that everything, all the stars were aligned, everything was just perfect."
Swoon!
That sigh-worthy statement came during a BBC interview with the happy couple, whilst Harry recounted how he and Meghan met. "This beautiful woman just sort of literally tripped and fell into my life, I fell into her life," he added, reported the Express UK.
While we're on the topic of extremely romantic statements, may I just point out that, when asked when he knew Meghan was "the one," Prince Harry replied, "The very first time we met." I mean, come on! This little morsel of romantic overload came during the couple's public appearance after announcing their engagements, noted PopSugar.
Prince Harry also referred to his true love as Meghan Markle when he released a statement to the media way back in November, pleading with the press and the public to treat his "girlfriend" with kindness and respect.
After acknowledging that he himself has always had a good relationship with the media, and an understanding that people are curious about his private life, Prince Harry's statement (released by his press secretary) set some stern tones:
..."The past week has seen a line crossed. His girlfriend, Meghan Markle, has been subject to a wave of abuse and harassment. Some of this has been very public - the smear on the front page of a national newspaper; the racial undertones of comment pieces; and the outright sexism and racism of social media trolls and web article comments. .... Prince Harry is worried about Ms. Markle's safety and is deeply disappointed that he has not been able to protect her. It is not right that a few months into a relationship with him that Ms. Markle should be subjected to such a storm. He knows commentators will say this is 'the price she has to pay' and that 'this is all part of the game'. He strongly disagrees. This is not a game - it is her life and his.
Swoon, swoon, and more swoon!
Now, one final tidbit. Prince Harry may not ever refer to Meghan as "Rachel," but he does apparently have a pet name for her ... Meg! The Sun caught his calling her this as they were attending an Invictus Games Reception hosted by Australian Prime Minister Malcolm Turnbul, reports OK!
No matter what Prince Harry calls his bride, one thing is pretty clear: what we have here is a case of true love. Hear ye, hear ye!