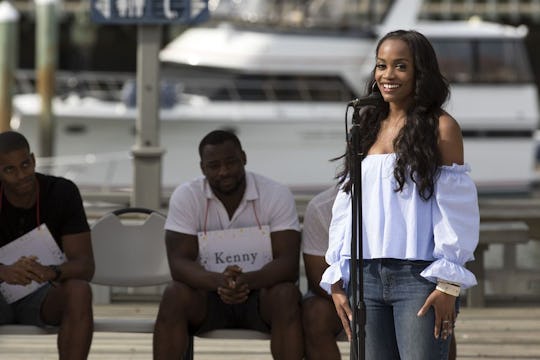 Bob Leverone/ABC
Bryan Let His Feelings For Rachel Be Known On 'The Bachelorette'
On Monday's episode of The Bachelorette, there was an agreement among most of the men that Rachel and Bryan had already managed to spark a real connection with each other. And when Bryan told Rachel he's falling in love with her, it wasn't a moment too soon since we all felt it coming after their multiple intimate moments together. But does Rachel love Bryan on The Bachelorette?
Just because he was the first contestant to say the words to her, it doesn't necessarily mean she feels the same way, but she definitely seems more into him than anyone else right now. Right from the beginning of the season though, when Rachel gave Bryan the first impression rose and he responded to that honor by passionately kissing her, it was clear that there would be something between them.
And now, when Bryan said he's falling in love with her, she wasn't put off by what that means for them as a potential couple or the fact that this is only Week 5. So even if Rachel doesn't love Bryan just yet, it definitely seems like she's on her way to that point. Even the other men in the Bachelor Mansion could see that Rachel and Bryan already have something real between them that could end up resulting in a full out engagement.
On Monday night's episode, Rachel said that now is the time to see where she stands with all of the guys as relationships begin to form and it has gotten to the point where she's trying to weed out the guys who she doesn't see a real future with. So it's definitely the time for her to start falling in love, just like Bryan is with her.
During Rachel and Bryan's daytime date, they rappelled off the side of a ski jump and while they dangled 187 feet above the ground, they also seemed like a couple already. "This is the craziest experience I've ever had," Rachel said to the camera. "But looking to my left, Bryan's right there beside me. Bryan is making me feel like I can do anything."
Even though Rachel didn't outright say that she loves Bryan or that she's falling in love with him, it's pretty obvious that she's into him enough (and has been from the beginning) that those feelings are there. Now, Bryan just needs to make it to the final two, but something tells me he's going to be safe for a while.