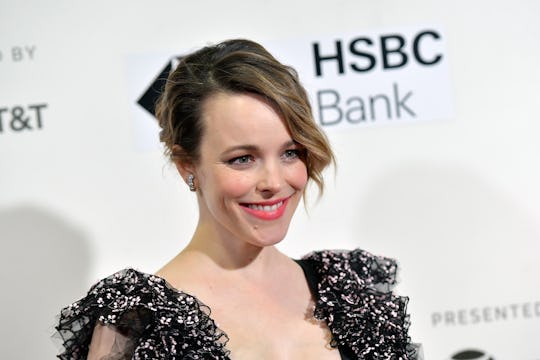 Roy Rochlin/Getty Images Entertainment/Getty Images
Rachel McAdams Officially Confirms She's A Mom In A Candid New Interview
Exciting news about Rachel McAdams dropped in April — the reported birth of her first child, a son, with boyfriend Jamie Linden. Though paparazzi photos seemed to confirm the news, McAdams never addressed the rampant speculation, choosing to keep her family life on the DL. But in a new and candid interview with The Sunday Times published this week, Rachel McAdams confirmed she is a mom.
It goes without saying there's no right way for a celebrity to approach pregnancy in the public eye. Some famous faces choose to announce within the first few months, while others go the Kylie Jenner route, opting to announce after the birth.
McAdams took her privacy a step further than Jenner, however, deciding not to confirm the birth personally. The public found out about the happy news thanks to reports circulating around the internet, even though McAdams never publicly acknowledged the speculation. To each their own, right?
But in an interview with The Times published this Sunday, McAdams confirmed that she's a mom. Now that the baby news is officially out of the bag, McAdams is more than happy to gush about first-time motherhood. When asked to give a reaction about motherhood, McAdams responded, according to USA TODAY: "The greatest thing that's ever happened to me, hands down."
As for why McAdams chose to give birth at 39 (not that it's anyone's business, of course), she replied, according to Good Morning America:
[People say] your life is not your own anymore. But I had 39 years of me, I was sick of me. I was so happy to put the focus on some other person. I waited a long time [for motherhood].
Speaking of those 39 years, McAdams has achieved a lot in her career. From starring in an Oscar-winning movie (Spotlight, anyone?) to her environmental and political activism, the actress is one impressive person.
Career-wise, McAdams is ready to get back at it now that seven months have passed since the birth of her son, whose name she has yet to reveal.
"I have clothes on and that's a good thing," she admitted, according to Yahoo. "I don't even know what I'm wearing today. The shoes are held together with glue. Isn't that sad? I need to get a life."
Still, McAdams wouldn't change her new life for anything.
"I'm having more fun being a mum than I've ever had," she revealed, according to USA TODAY. "Everything about it is interesting and exciting and inspiring to me. Even the tough days — there's something delightful about them."
A million well-wishes to McAdams on her special arrival. It sounds like the actress couldn't be happier about her new role as mom.
This first-time mom wants to have a home birth, but is she ready? Watch how a doula supports a military mom who's determined to have a home birth in Episode One of Romper's Doula Diaries, Season Two, below. Visit Bustle Digital Group's YouTube page for the next three episodes, launching every Monday starting November 26.