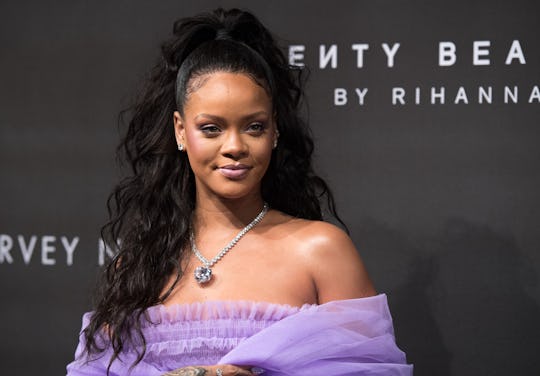 Chris J Ratcliffe/Getty Images Entertainment/Getty Images
Rihanna Talked About The Kind Of Mom She'll Be, & It's So Sweet
Throughout the years, Rihanna has touched on the topic of motherhood here and there. But now that Rihanna is 30 (she marked the milestone on Feb. 20), she has to field questions about having kids more than ever. Although it's not fair to assume that Rihanna is preoccupied with her biological clock, it does make sense that people are curious about her future plans. So, does Rihanna want kids? As it turns out, Rihanna is considering motherhood, and her preferred parenting style will probably come as no surprise to fans.
To Rihanna's credit, she's very open and to the point type of person. So, when it comes to discussing having children, she doesn't shy away from honesty. "I don't really plan on the age," Rihanna said about the prospect of motherhood in a November 2010 interview, according to Cosmopolitan. "It could be a year from now. It could be 10 years from now. Whenever is right. I mean, I have a lot of other stuff to accomplish before I get to kids. Whenever the time is right, I'll just know."
So, has Rihanna checked off enough goals on her list to consider having kids in the near future? Although Rihanna admitted that she's thinking about freezing her eggs (30th birthday anxiety at its finest), she didn't exactly pin down when she'll start her family. What Rihanna did confirm, however, is the type of mom she'll be. And fans won't be surprised to hear that Rihanna plans to be very hands-on with her little one.
"I'm not gonna be able to take my eyes off my kid," Rihanna confessed, according to Vogue. "I know that already about myself. They're going to have to force me to hire a nanny."
Makes sense, right? Rihanna, who owns multiple businesses, is very involved with each professional endeavor she takes on. Take Rihanna's collaboration with Puma, Puma x Fenty, for instance. In a discussion about creating the highly-detailed runway shows for the line, Rihanna shared, according to Vogue:
It's creating the environment to tell the story of the product, and the product in that case was the clothing. I wanted people to feel what I was trying to say and what the clothes were trying to portray by creating an environment that represents the clothes. It's important that the right clothes are shown in the right place.
Translation: Rihanna is pretty darn meticulous, and there's no doubt she'll be very detailed-oriented in her parenting. Considering Rihanna likes to be in the driver's seat when it comes to her professional life, why wouldn't she be the same way as a mom?
Of course, there's nothing wrong about having a nanny, and Rihanna is undoubtedly in a great position to be able to afford one. Nanny or not, however, Rihanna is allowed to decide what type of parenting style is right for her.
Rihanna's parenting style aside, fans are also curious about who she might want to have kids with. Although a person doesn't need a partner to be a parent (I can't emphasize this enough), a source claims Rihanna wants to have children with her boyfriend, Hassan Jameel. The insider told Hollywood Life:
They are very serious and now that Rihanna has hit the big 3-0 she's thinking about stuff like marriage and family a lot more. She always thought she would have kids by this age so that's on her mind now too. She and Hasaan aren't rushing into anything, but that is where her head is going. It really seems like she's met her Prince Charming.
While I'm not too wild about the Prince Charming part about this quote (seriously?), Rihanna did confirm in November 2010 that she doesn't want to be a single parent. Rihanna confessed, according to The Independent:
I definitely think a child deserves both parents. It would be selfish of me, because of my pride and independence to say, 'Oh, I just want a sperm donor, because I can do it myself.' I can do it myself, but that's not fair. I'm just saying that whatever comes my way I'll be able to handle it, but in a perfect book, there would be marriage and kids.
Obviously, a lot of people would disagree with the notion that a child "deserves" two parents. Still, if a two-parent home is something that Rihanna wants for her future, that's up to her.
All in all, it's incredibly exciting to consider Rihanna as a parent. And only time will tell when Rihanna will get to be the hands-on parent she hopes to be.
Check out Romper's new video series, Bearing The Motherload, where disagreeing parents from different sides of an issue sit down with a mediator and talk about how to support (and not judge) each other's parenting perspectives. New episodes air Mondays on Facebook.