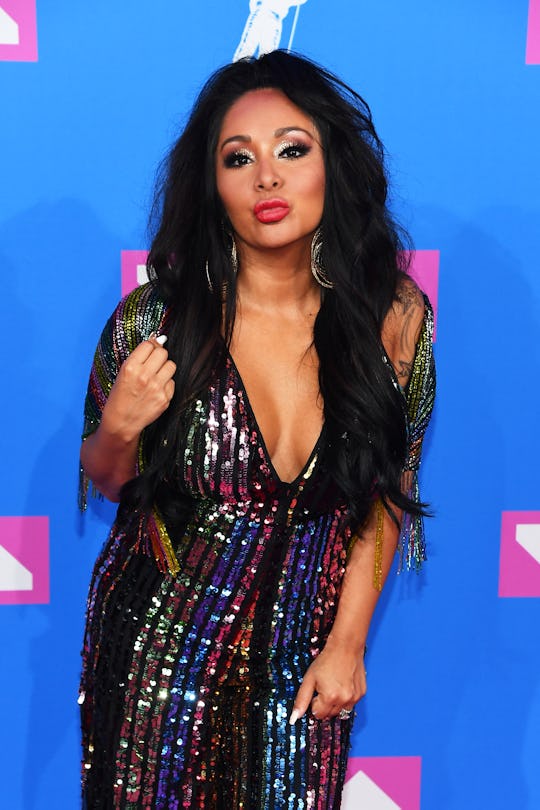 Nicholas Hunt/Getty Images Entertainment/Getty Images
Snooki From 'Jersey Shore' Reveals She's Ready (& Trying) For Baby No. 3
Since Jersey Shore went off the air just six years ago, Nicole "Snooki" Polizzi's life has drastically changed. The 30-year-old has starred in other reality shows, written a book, and welcomed two children. And she is clearly in love with mom life — but does Snooki want more kids?
The reality star opened up about the topic at the MTV Video Music Awards in New York City on Monday night. When a reporter from Entertainment Tonight asked Snooki if family expansion was in the cards, she gave a pretty exciting answer. "I'm trying now," Polizzi told Entertainment Tonight. "I'm practicing now. It's going good. I'm not pregnant yet but, I mean, we've been practicing for a month now so…"
So even though a third child isn't officially on the way, there's a strong chance that one may be pretty soon. Snooki and her husband, Jionni LaValle, are already parents to Lorenzo, who will turn 6 next week, and Giovanna, who will turn 4 next month. Snooki shares pretty regular updates about her tykes, constantly posting photos and videos of them on Instagram. It's evident that she has a super close bond with both Lorenzo and Giovanna, so it's no surprise that she wants to add another child to her family.
This is not the first time Snooki has expressed her desire for another baby. In an interview with E! News in February 2017, she revealed that she may even want more than three kids. "I want two more so I think we're going to try sooner than later," Snooki told E! News "I'd like two more boys if that could happen. I don't want another [daughter.] She's too much!"
At the VMAs, Snooki opened up about how hard it was to leave her children while filming Jersey Shore: Family Vacation, the Jersey Shore reboot that premiered on MTV this past April. She also told Entertainment Tonight:
It was hard for me, you know, leaving the babies, obviously ... But it's such a good time to honestly go away for five days, just be yourself and not care about "Oh, we have to wake up at 7 a.m., make the kids lunch, go to school." It's a nice getaway, but at some point I'm like, "All right, it's time to go home." But honestly, it was such a good time.
Snooki has gotten honest about her motherhood experience on multiple occasions. In that same interview with E! News in February 2017, Snooki shared how being a mom taught her to enjoy a movie night at home even more than a night out clubbing.
"Your kids will always come first, and I actually don't like going out," she told E! News "I'd rather spend my Friday and Saturday nights with my children, watching Rapunzel or Tangled."
And in an interview with People this past May, Snooki shared an inside look at her parenting style, which obviously involves her fun personality. She told the magazine:
I'm basically raising my kids to not be judgmental and to always just have a fun personality and to understand that sometimes Mommy has to let loose. Even daddy has to let loose – I let him go out all the time. It's basically just like, Adults like to have fun with their friends sometimes. And you will know that one day … when you are 45.
And Snooki has felt that way ever since the first day she became a mom. When baby Lorenzo was about 2 months old, Snooki appeared on NBC's TODAY to talk about motherhood. "It's so emotional — every time I see it, I wanna cry," Snooki said after being shown a video of her baby boy on screen, The Hollywood Reporter reported back in 2012.
Hopefully another meatball joins Snooki's family soon — but in the meantime, fans will stay plenty entertained with her adorable updates on Lorenzo and Giovanna.