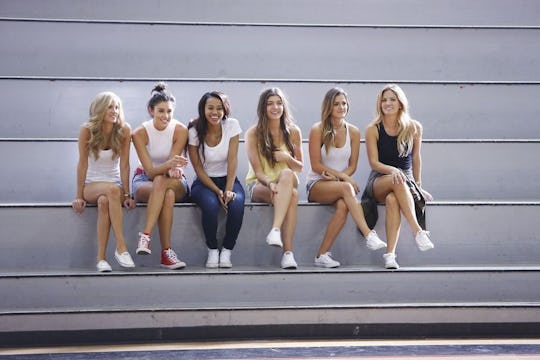 ABC/Greg Zabilski
Does 'The Bachelor's Lace Still Talk To The Other Women? She's Made A Few Friends Despite Her Reputation
Bachelor fans, get ready: According to sources in the know, on Monday night, Bachelor Live will reveal what made contestant Lace Morris storm out of the show. Yep, you read that right: Lace is reportedly out. Rumors have been swirling around the 25-year-old real estate agent who's been labelled "the wild card" of the season for a while now, and fans are drawn to both her antics and how relatable she can be at times. Now that it's common knowledge that she's leaving the show, one of the things fans will want to know both on the show and off it is whether Lace still talks to the other Bachelor women.
Judging by social media, Lace is pretty tight with several Bachelor contestants from her hometown of Denver, Colorado. These include present contestant Leah Block (no catty competition between those two!), 2015 contestant Amber James, and Jillian Anderson, who has starred on both The Bachelor and The Bachelor in Paradise. I have a feeling Lace won't be joining Olivia Caridi for regular brunches, but it seems like Lace has her own family of Bachelor contestants with whom she can commiserate over the highs and lows of starring on a reality TV show. (Because, you know, being labelled "crazy" by the entire internet kind of sucks.)
Maybe Lace can ask her friend and Bachelor in Paradise veteran contestant Jillian for some tips, since it seems like that's Lace's next stop. The drama on this season of The Bachelor and her clashes with Ben Higgins might have been a lot to handle, but that doesn't mean Morris is giving up her search for an eligible bachelor (on live television, to boot): On a recent press tour, The Bachelor creator Mike Fleiss admitted to E! News that Lace would be on season three of Bachelor in Paradise.
Bachelor Ben explained his early decision to keep Lace in his People Bachelor blog post last week, explaining,
"I think what a lot of people don't think about is that, from my perspective (and remember, I am not seeing her interactions with the other women until I am watching it on TV, just like you), she is also showing me that she really cares — that she is not just here for a good time or a party, but that she is seriously interested in me and wants to make progressing our relationship a priority. I have a really hard time getting upset about that."
Honestly — whether they love her or love to hate her, Morris is getting lots of attention. Keeping her around or bringing her to Mexico is just a smart move.
It'll be interesting to see if Morris continues any friendships with the current Bachelor ladies once she's off-screen. She's received a bit of a villain vibe this season — and that's putting it lightly; One contestant dubbed her "50 shades of crazy." But c'mon, folks. Let's remember, it's reality TV, and if it were all nice, it'd be boring.
Still, some Bachelor contestants have managed to remain friends long after the cameras stopped rolling — and Morris seems pretty relatable once the pressure is off. I'm sure there's some bonding between her and the other girls somewhere in the reels of unused film in some Bachelor basement. Let's hope that's the case, because she's going to need all the support she can get as she heads off to her new Bachelor in Paradise adventure.
Images: ABC/Greg Zabilski