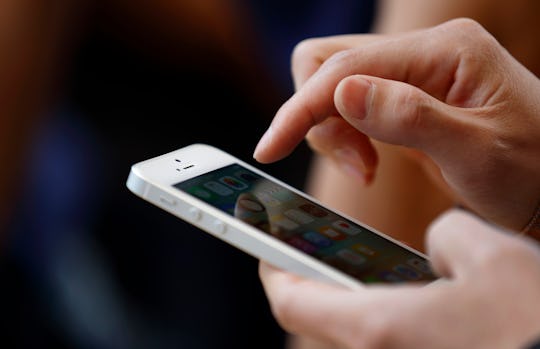 Tomohiro Ohsumi/Getty Images News/Getty Images
Does The iPhone 7 Come With Wireless Headphones? There Will Be No Headphone Jack
In just a few hours from now, Apple will debut its latest smartphone model in its annual fall iPhone event on Wednesday. Questions abound about what's next for the highly anticipated iPhone 7: Will it have dual cameras? Answer: Probably. Will it be lighter and faster? Isn't it always? Does the iPhone 7 come with wireless headphones? Um... about that whole "headphones" thing... The big news that most Apple aficionados expect to hear from Apple CEO Tim Cook is that the iPhone 7 won't have a headphone jack — a major hardware change already throwing many into a bit of a tizzy.
With every iPhone iteration, Apple has always included a pair of its signature earbuds, the most recent version dubbed EarPods. The EarPods have always attracted a certain amount of controversy: You either love or hate Apple EarPods. (For the record, I love the EarPods.) But with the likelihood that Apple will abandon the analog headphone in the iPhone 7 in favor of a lighter, thinner phone, many are speculating that Apple will replace its EarPods with AirPods — if recently discovered trademark applications are to be believed. But that still doesn't answer the question of whether wireless headphones will ship with the newest iPhones.
On Tuesday, Ming-Chi Kuo, an analyst at KGI Securities, revealed several details about Wednesday's upcoming iPhone event. In a note obtained by AppleInsider, Kuo wrote:
Apple will likely have its own-designed Bluetooth-like communication chip and launch own-brand Bluetooth headphones targeting the high-end market, with Beats positioned in the midrange market.
(Beats — the headphone and speaker company originally founded by rapper Dr. Dre in 2006 — was acquired by Apple in 2014.) Kuo further noted that Apple will not ship wireless AirPods with the new iPhone 7. This seems to verify another iPhone scoop picked up by AppleInsider, when AppleInsider was sent leaked iPhone 7 packaging — anonymously, of course — that details the contents of everything included with the iPhone 7. According to the iPhone 7 packaging leak, Apple will ship a pair of EarPods with a Lightning connection, as well as a headphone jack adapter for users.
So what does all of this mean for rocking out to your latest Spotify playlist on your new iPhone 7? Well, the times, they are a-changin'. Innovation is nothing new for Apple: it has virtually changed the entire landscape of human communication with the introduction of the first iPhone in 2007. And, in all fairness, let's just take a step back for a second to appreciate that we live in a part of the world where we can basically carry the internet in our pockets — so is losing a headphone jack really all that big of a deal?
Update: At Wednesday's iPhone event, Phil Schiller, vice president of worldwide marketing at Apple, confirmed that Apple's new wireless AirPods headphones will not ship with the new iPhone 7 and iPhone 7 Plus; they will be available for purchase for $159.