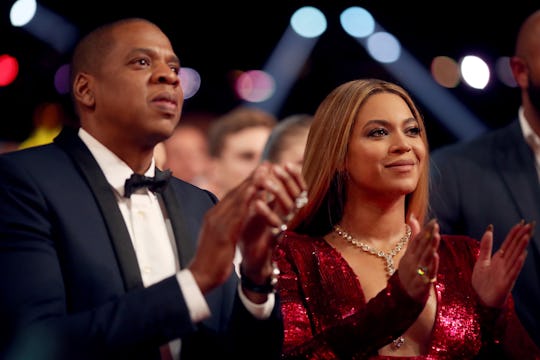 Christopher Polk/Getty Images Entertainment/Getty Images
Does This Lyric Prove JAY-Z Cheated On Beyonce?
It's finally here: JAY-Z's long-awaited album, 4:44, dropped Friday at midnight Eastern Time. And the TIDAL exclusive has caused quite a stir among the Brooklyn icon's fans. That's because a certain verse in the title track may confirm old rumors about JAY-Z's infidelty. But does this 4:44 lyric prove JAY-Z cheated on Beyoncé? Maybe. Maybe not.
Sometimes songs are obvious confessions. Sometimes they are metaphors for demons that a musician is battling. According to Rolling Stone, though, JAY-Z is asking wife Beyoncé for forgiveness for his infidelities on the titular song. The "4:44" verse in question goes:
And if my children knew / I don't even know what I would do / If they ain't look at me the same / I would probably die with all the shame, 'You did what with who?' / What good is a ménage à trois when you have a soulmate? / 'You risked that for Blue?'
Rolling Stone pointed out other lyrics in "4:44" that prove JAY-Z is apologizing for cheating on Beyoncé, who gave birth to their twins last week. Infidelity rumors have swirled for the last few years; first in 2014 after Solange and JAY-Z's elevator fight, and then again last year, after Beyoncé dropped the impressive and commanding album, Lemonade.
Although the lyrics to "4:44" may be compelling evidence, it's not necessarily proof. In my past life as a music journalist, I spent hours upon hours interviewing musicians about their lyrics. A lot of times, the verses they had penned were up for interpretation — and many different interpretations at that. That's the beauty of the written word: Anything could mean anything. Additionally, we still have no evidence of any infidelity on JAY-Z's part. Beyoncé's representative hasn't responded to requests for comment regarding the matter either. So, for all we know, what sounds like music about infidelity to fans could be a metaphor for something else in the couple's life.
Take, for example, "Kill Jay Z," the opening track on 4:44. According to E! News, on "Kill Jay Z," the prolific rapper references the infamous post-Met Gala altercation, and allegedly admits wrongdoing. JAY-Z raps,
You egged Solange on / Knowin' all along / All you had to say you was wrong ... But you gotta do better, boy, you owe it to Blue / You had no father, you had the armor / But you got a daughter, gotta get softer ... You almost went Eric Benét / Let the baddest girl in the world get away
But JAY-Z told iHeartRadio that "Kill Jay Z" should not be taken "literal." The song, he told the radio station, is about "killing off the ego" so that a conversation can happen from "a place of vulnerability and honesty."
This is not to say JAY-Z hadn't cheated on Beyoncé. He very well could have, despite the fact that all fans are going off of is the couple's vague references in their music. Three, possibly four, people know that truth. What this conversation over his alleged infidelity does prove, though, is that JAY-Z is a powerful lyricist who could still evoke an emotional response from listeners 13 albums into his career.