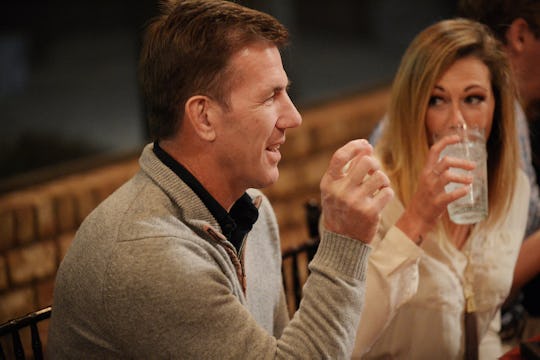 Jeff Gentner/Bravo
Thomas' New Girlfriend Made A Big Sacrifice To Be With The 'Southern Charm' Star
The fifth season of Southern Charm only just premiered, but I'm pretty sure we can all guess that Thomas Ravenel's relationship with Ashley Jacobs, his newest girlfriend, is going to be a huge plot point for the duration of the season. She's a new face to pretty much everyone else in the cast though, so does Thomas' girlfriend Ashley live in Charleston on Southern Charm? The two met last May and since it's been almost a year since then, and she's a big part of the show at the moment, it would only make sense for her to have made the move, even if it's a big change from where she's originally from.
According to People, Ashley actually moved across the country from her hometown of Santa Barbara, California to be with Thomas in South Carolina a week after they met. Since their meeting in May, there have still been photos on Ashley's Instagram of her hanging out or spending time with friends in Santa Barbara, but she's most likely just been dividing her time while keeping her new home base in Charleston with Thomas. Plus, one of Ashley's more recent photos is tagged in Charleston and her relationship with Thomas seems to be going strong, even after filming her first season of Southern Charm as his girlfriend, so she just might be here to stay.
Editor's Note: The Instagram post has since been deleted.
Although she made the move with seemingly no questions asked, Ashley is still very much attached to her hometown. But while she might be in and out of Charleston, given that she and Thomas have been together for almost a year now, it's safe to say that she's more of a permanent fixture in his life at this point in time.
Anyone who's followed the group of Charleston natives throughout the course of the Bravo series knows that there have been plenty of relationships which have come and gone. And yes, some of those relationships were in the inner circle of core cast members, which certainly makes it awkward and dramatic to continue to film together. Although Ashley has done nothing wrong by starting a relationship with Thomas, it looks like their relationship is going to be tested this season.
Early on in the show's first season back in 2014, Thomas and fellow Southern Charm star Kathryn Dennis hooked up and eventually had two children together, who they now co-parent, as shown on TV. But the introduction of Thomas' new girlfriend shows that there's likely going to be some major drama between Kathryn and Ashley, whether Ashley wants it or not.
In a preview for Season 5 of Southern Charm, the two women have more than one confrontation about Thomas' relationship with Ashley and the seriousness of it. Right off the bat, Kathryn doesn't seem to love the idea of Thomas introducing her to their children right away and moving her to Charleston so soon. Later in the promo, after one of what I suspect to be many fancy galas of the season, Kathryn tells Ashley, "I want you to know, you've crossed a line. And as a mother, f*ck you."
Since Thomas and Ashley still seem to be together after the season was filmed, I doubt that Kathryn's concerns did anything to deter their connection, but even so, fans are going to have a ton of questions about Thomas' new girlfriend on Southern Charm. If she really is here to stay, then pretty much everyone, including fellow cast members of the reality series, are probably going to have to get used to her.
Check out Romper's new video series, Romper's Doula Diaries:
Watch full episodes of Romper's Doula Diaries on Facebook Watch.