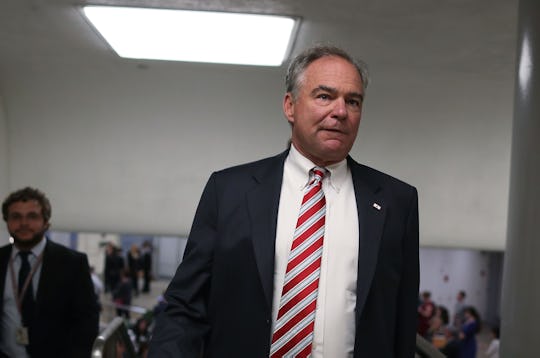 Alex Wong/Getty Images News/Getty Images
Does Tim Kaine Have Kids? The Senator Is A Proud Papa
The wait is over. On Friday evening, the Associated Press confirmed that Tim Kaine would serve as Hillary Clinton's running mate and Vice President, should she win come November. For those not in the political know, Kaine is a bit of mystery man and, as such, is being Googled like crazy from politicos and non-politicos alike. All sorts of questions are being asked from "where does Kaine stand on the issues" to "does Tim Kaine have kids?" And, if your someone who cares deeply about a candidate's personal life, then you'll want the latter question answered ASAP.
But first, a bit of background information. Kaine currently serves as the senator of Virginia, as has held the title since January 2013. Prior to his current position, Kaine served as the governor of Richmond, Virginia from 2006 to 2010 and sat on the Richmond City Council for more than 10 years, according to his website. Many believe his impressive resume, combined with his political leanings, that made Clinton choose Kaine as her running mate. The Associated Press broke the news of the pairing in a tweet Friday evening, which Clinton supporters has been waiting all day to hear.
But enough about his professional life, right? Kaine and his wife Anne Holton, who Kaine has compared to Clinton, have three children together: sons Nat and Woody, and daughter Annella. And if you thought Kaine and his wife were impressive, you should check out their offspring.
The eldest of the Kaine children, Nat graduated from George Washington University ROTC in 2012, according to the Washington Examiner. The publication notes that he is currently a Marine Corps reservist who has been on active duty since January 2013. Because of Nat's role in the Marine Corps, Kaine shows very strong support for all branches of the military. In a 2012 debate with George Allen, Kaine said he would "not do things that will hurt the troops or defense" nor would he "do things hurting veterans."
Kaine's second son Woody keeps a much lower profile than his older brother. In a 2013 interview with the Richmond Examiner Dispatch, Anne said Woody was attending Carleton College in Minnesota. As to what he is studying, Woody's personal blog indicates that he is exploring filmmaking. Or, at least, has a strong interest in it. It is unclear if Woody is still pursuing his education, a potential film career, or something entirely different.
Similar to Woody, Annella Kane is carving a more creative path than her father. Annelle is currently studying at New York University with a major in theatre, according to her Way Up profile. Set to graduate in 2017, Annelle has a strong performing arts background that includes acting, singing, and dancing. And much like Chelsea Clinton, Annelle has a very strong bond with her mother Anne. "My mom and I have a great relationship," Annella said in a 2010 interview with the Richmond Times-Dispatch. "I'm not saying we don't fight, she is my mother after all, but we just get along pretty well."
As the 2016 Election draws closer, the world is sure to find out much more about the Kaine children. And I for one can't wait. After all, we need someone to fill Sasha and Malia's shoes.