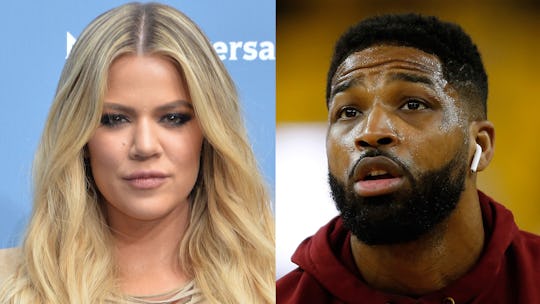 Slaven Vlasic/Getty Images Entertainment/Getty Images, Lachlan Cunningham/Getty Images Sport/Getty Images
Now That Baby True Is 2 Months Old, It's Time To Ask: Does She Look More Like Khloé Or Tristan?
True Thompson may be too young to have her own social media accounts, but luckily for fans, there are already plenty of photos of the nearly 3-month-old online. Even though True's father Tristan Thompson hasn't shared many photos of his daughter, and True's mom Khloé Kardashian has been reserved in which photos and videos she chooses to post of her baby daughter, the resemblance between True and both her parents is already clear. That being said, does True Thompson look more like Khloe or Tristan?
Kardashian gave birth to True Thompson on Thursday, April 12 in Cleveland, Ohio, where she moved to live with Thompson. The new mom didn't post the first photo of True until she was 1 month old — and she had good reason for keeping things private up until then. Just several days before True's delivery, the Daily Mail released footage of a man appearing to be Thompson with another woman the week before their daughter was born. The following day, TMZ published additional footage of purported to be Thompson allegedly with other women, reportedly filmed at a hookah bar in October. Romper's requests for comment from Thompson and Kardashian's reps have not been returned.
However, by the time True celebrated her 1-month birthday, Kardashian was ready to show her baby to the world — and she did so with an Instagram video featuring a flower-and-freckle lens. "Happy 1 month old, Mama. I love you, pretty girl," Kardashian cooed to her daughter in the short clip.
It's hard to tell based on that filtered video, but at 1 month old, True already resembled her mom. For one thing, Kardashian has killer cheekbones, and True's adorably plump cheeks are totally the star of that video. Tristan has noticeable dimples when he smiles, and True has yet to publicly show off any dimples of her own.
Interestingly, True seems to have blue eyes in the clip, even though Kardashian has green eyes and Thompson has brown eyes. Many babies, especially those with lighter skin, are born with very little melanin in their eyes, causing their eyes to appear blue, as explained by Parents. "The amount of melanin in the iris, the colored part of the eye, determines what color a person's eyes will be," Dr. Douglas Fredrick, a pediatric ophthalmologist at Stanford Children's Health told the magazine. After a baby is born and their eyes are exposed to light, more melanin is produced, causing the eye color to change or simply get darker, Dr. Fredrick explained to Parents. Additionally, most babies' eyes are done changing color by the time they are 1 year old, so there's definitely some more for True's eyes to change color to look more like her mom's or dad's.
A few weeks later, in May, Kardashian posted the first photo of True sans filter.
It could just be the lighting, but it looks like her eyes were already getting darker. Not only are True's luscious cheeks still apparent in this photo, but it looks like her Kardashian-level plump lips have already arrived.
Additionally, as True's hair continues to grow in, it's clear that she has very dark brown hair, like her dad, Tristan.
Around True's 2-month birthday, Kardashian Instagrammed two photos of True — and the sassy facial expression in the second shot is too good. True has yet to appear on Keeping Up with the Kardashians, but if she can keep up the expressive, skeptical facial expressions, she'll be on the show in no time.
Last week, Tristan shared his first photo of True to Instagram. Captioned with a heart, he posted a photo of himself holding both True and his son Prince, as well as two polaroids of Prince kissing True on those delectable cheeks. While True doesn't seem to resemble her dad too much in the pictures, it's clear that he is a proud papa to his two kiddos.
In my opinion, 10-week-old True seems to already resemble her mom more than her dad. But what's undebatable? True is absolutely adorable, and it will be exciting to watch her grow up.