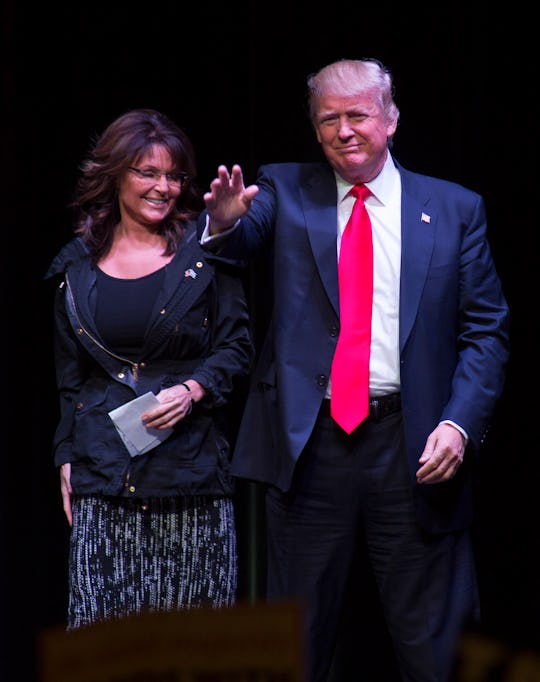 Darren Hauck/Getty Images News/Getty Images
Does Trump Still Like Sarah Palin? Trump Has Been Silent On Palin's Criticism
On Saturday, Sarah Palin wrote a piece criticizing president-elect Donald Trump's deal with Carrier to keep hundreds of jobs from being outsourced from Indiana. In what may be the understatement of the year, Trump is usually very outspoken against his critics. And considering Palin may be up for a position in Trump's Cabinet, Trump could dump Palin before making his pick. So does Trump still like Sarah Palin?
On Dec. 1, president-elect Trump announced he'd made a deal with air-conditioning manufacturer Carrier to keep 800 jobs in Indiana (which happens to be where Trump's vice president-elect Mike Pence is governor) rather than outsourcing them to Mexico.
Palin, former governor of Alaska, wrote an article for Young Conservatives showing her disapproval of the Carrier deal. She argued that politicians choosing which companies receive government support is a sign of "corruption." Palin added that "when government steps in arbitrarily with individual subsidies, favoring one business over others, it sets inconsistent, unfair, illogical precedent."
It's a strong criticism from someone who made a long, long speech endorsing Trump back when he was on the campaign trail. The criticism is also surprising because Trump may be considering putting Palin in charge of the Department of Veterans Affairs, which Trump has promised to completely overhaul.
But so far, Trump hasn't mentioned anything about Palin's criticism of his deal with Carrier, or against Palin herself (probably because he's too busy tweeting about Saturday Night Live). Romper reached out to both Trump and Palin; neither returned the requests for comment.
Despite the criticism, I don't think Trump would completely write-off Palin, who has been one of his biggest supporters. The reason why? Because Trump has managed to mend fences with one of his biggest critics: Mitt Romney.
During the campaign, Romney famously went against Donald Trump, calling him a "phony" and a "fraud." And yet, recently Trump was considering Mitt Romney as a candidate for secretary of state. And even though the Boston Herald reported that Romney is no longer under consideration for the role, GOP strategist Ryan Williams said that Romney will likely be an advisor to the president-elect.
Whether or not he becomes a member of the Trump administration, he has worked to mend fences and re-establish ties with the president-elect. He'll be someone that President Trump can call if he needs advice or counsel.
Trump offered kind words for Romney after they shared a dinner together in late November. "Don't forget I hit Mitt pretty hard also, I mean, before the fact so I understand how it all works," Trump said in an interview with Fox News. "He's been very, very nice."
So if Trump can mend fences with Romney, I'm sure his relationship with Palin hasn't soured too much, if at all. After all, Palin and Trump have been friends for years. And Palin has gone right back to expressing support for Trump and what his future presidency will mean for the country:
And if Palin doesn't get chosen for the Department of Veterans Affairs, it may have more to do with her lack of experience for the role than for her critical comments.