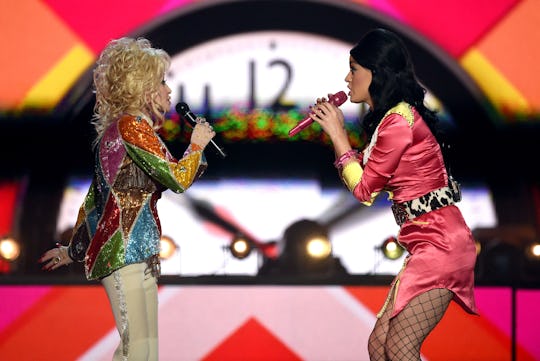 Ethan Miller/Getty Images Entertainment/Getty Images
Dolly Parton & Katy Perry's "Jolene" Duet At The ACM Awards Proves We Are Not Worthy
Sunday night's Academy of Country Music Awards show will go down of one of the most important nights in musical history for pop music and country music fans alike. Not only did two icons take the stage to bless us all with the three-song medley of a lifetime, but Katy Perry and Dolly Parton's "Jolene" duet gave us all life, proved that Beysus loves us and wants us to be happy (because yes, in my perfect world, both Dolly and Katy have accepted Beyoncé as our one true Mother), and reminded me just why classics like "Jolene" are so incredibly important and everlasting.
Perry first introduced Parton as the recipient of the Academy of Country Music's Tex Ritter Award, which, according to the ACM Awards, was given to Parton for her television movie, Dolly Parton's Coat of Many Colors. After cracking a few very well-placed jokes on their importance to music, Parton and Perry (which, like, guys, if you want to use that as your new band name, fine by me; y'all have my complete permission), the twosome took over the stage and brought down the house. They opened up with "Coat of Many Colors," but it was the music skills and sheer fire of "Jolene" that will go down as the most memorable moment from not just their performance, but the show as a whole.
Here's the bit if you missed it, and trust me, you'll never forgive yourself if you don't watch this immediately:
The song, a heartbreaking and raw ballad Parton penned about a woman named Jolene who is threatening to take away the most important thing to the singer: her partner. Though there's been rumors swirling for years as to whether or not the "Jolene" is based on a true story, in an interview with NPR Parton finally put the confusion to rest. She said that the name Jolene was inspired by a "beautiful little girl" with "red hair, this beautiful skin, [and] these beautiful green eyes." After meeting her and hearing her name, Parton remembers saying, "'That is pretty. That sounds like a song. I'm going to write a song about that.'" The conext for the song came later.
Parton says that the song was given its weight when another redhead, a bank teller, was giving her husband a little too much attention. "She got this terrible crush on my husband," she told NPR, "and he just loved going to the bank because she paid him so much attention. It was kinda like a running joke between us — when I was saying, 'Hell, you're spending a lot of time at the bank. I don't believe we've got that kind of money.' So it's really an innocent song all around, but sounds like a dreadful one."
Tonight, hearing Perry and Parton come together on a song that is so deeply personal to both the singers and to the scores of women and men all over who relate so intimately to its lyrics was not just a huge moment for country music — it was a defining moment for music fans everywhere. Now excuse me while I go listen to it on repeat.