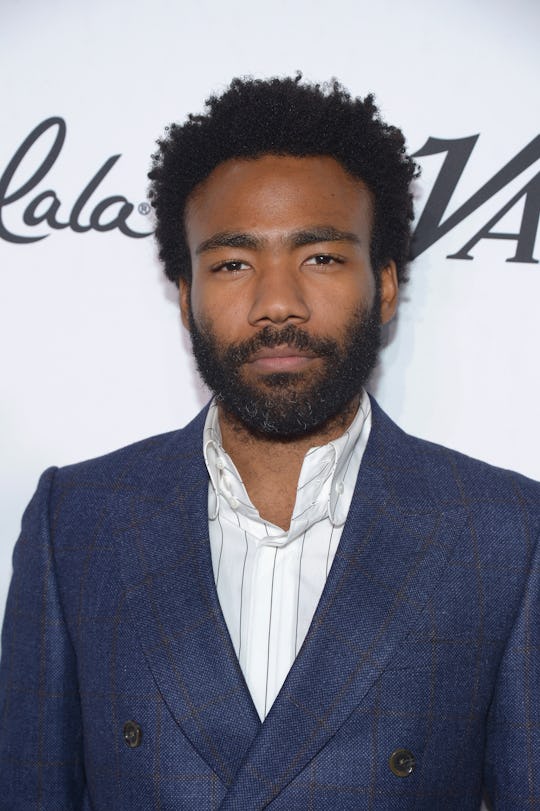 Matt Winkelmeyer/Getty Images Entertainment/Getty Images
Donald Glover Is A Dad & It's A Welcome Surprise For Fans Everywhere
I don't always get excited about celebrity baby news, but when I do, I lose my mind. And right now, I'm losing my mind over this surprise news. As it turns out, according to a source who spoke to Us Weekly, Atlanta's Donald Glover is now a dad and fans couldn't be happier for him and his girlfriend.
Glover is on point with his social scene, as in he has made sure the media knows next to nothing about his private life. As in, his girlfriend's name. Which, to be honest, it appears nobody seems to know his girlfriend's name (although I'm going to go out on a limb and assume that Glover does, indeed, know her name. Probably also her parents).
Secret pregnancies are so on trend this year, and Glover has kept his a secret with the best of them (Ryan Reynolds and Blake Lively, Ryan Gosling and Eva Mendes, et al). The couple were spotted walking out of a grocery store in Hawaii in January with little Ms. X looking adorable and with child. According to Us Weekly, the couple were spotted with a baby stroller all the way back in May in New York City. And for some reason, no one thought to tell me until now.
Now since we don't know the name of Glover's girlfriend (and technically, we don't even really know if we're allowed to be calling her that... what if they're not there yet?), it should come as no surprise that the sex of the baby also remains a mystery. I'm guessing boy or girl or a combination of both. Either way, fans are happy for the couple.
(Mostly.)
The multi-talented actor is best known for the new FX critically-acclaimed series Atlanta, which he also created and directs, as well as his time as Troy on NBC's Community. Which has me wondering how Abed (Troy's best friend, roommate, and co-host of Troy And Abed In The Morning) would feel about Glover's new baby? (Who am I kidding, he'd probably be happy too, let's be real. It's a baby, after all.)
Glover (who is also the Grammy-nominated rapper Childish Gambino) was raised as a Jehovah's Witness in Stone Mountain, Georgia. His mother ran a home daycare and his father was a postal worker. Glover's parents both brought foster children into the household for 14 years, so he should be extraordinarily prepared for the challenges of parenting.
Now the next step for Glover? Sharing a little something-something with us desperate fans. Like his girlfriend's name, for a start, so we don't have to say, "Congratulations Donald Glover and ???"