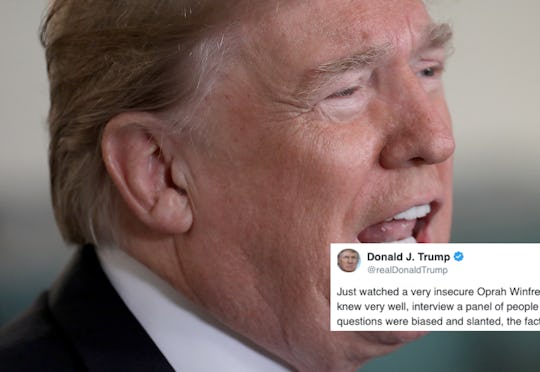 Win McNamee/Getty Images News/Getty Images
Donald Trump Called Oprah "Insecure" On Twitter & The Internet Is Fully Coming For Him
I think we can all at least safely agree at this point that President Donald Trump is a strong believer in attempting to talk a big game. He's not at all afraid of hurling out insults as an intimidation tactic — in fact, he basically built his entire presidential campaign on it — and now, in his latest move, it appears that Trump is taking aim at Oprah Winfrey. In a tweet Sunday night, Donald Trump called Oprah "insecure," according to People, and unsurprisingly, social media is not even sort of OK with it. But while it's not exactly a surprise he's lashing out yet again, Twitter's reaction shows that the president still has no clue how to read a room.
Though Trump's angry, late-night tweets are something we've all become accustomed to by now, his latest jab is still pretty baffling. For one, he's targeting Winfrey, who is not just a generally beloved American media icon, but someone who also earned much of the nation's praise after she gave a rousing and inspirational speech at the Golden Globe awards in January that left many hoping she'd sincerely consider a 2020 presidential run. And even though she shot down that idea in the March issue of InStyle magazine, according to Reuters, the president's tweet still seems like a particularly bad call (does he actually think now is the time to try and pick a battle with Oprah of all people?).
Trump's comments specifically criticized Winfrey for moderating a 60 Minutes panel Sunday night, which followed up with a group of voters from Grand Rapids, Michigan. The group of 14 voters (some pro-Trump and some anti-Trump) was originally interviewed by the program in 2017, and now, more than a year out from Trump's inauguration, they sat down again to offer up their take on the POTUS.
Clearly, Trump was unhappy with the segment: in his tweet, the president argued that "the questions were biased and slanted, the facts incorrect," before adding, "Hope Oprah runs so she can be exposed and defeated just like all of the others!" But Twitter users weren't impressed: after all, not only was Trump's Winfrey criticism uncalled for, it literally came on President's Day — and even worse, it came less than a week after a mass shooting at a Florida high school claimed 17 innocent lives.
A number of users took issue with Trump's claim that Winfrey is insecure (an idea that is both laughable and pretty ironic given Trump's own record of behavior):
But more than anything, Twitter users were particularly angry that the president was choosing to tweet about Winfrey when he should have been tweeting something — anything — even remotely helpful following the Parkland school shooting. Or, if not, perhaps at least having the good sense to not say anything at all:
Yet Oprah wasn't his only are-you-actually-serious-right-now Twitter target. After meeting with the recovering Parkland shooting victims at Broward Health North Hospital, Trump opted not to speak to reporters about gun safety, but instead to congratulate the first responders and hospital staff by saying, "the job they've done is incredible," according to CBS News. He then spent the weekend at his Mar-A-Lago estate, where he spent most of his time watching television and tweeting (according to TIME, Trump's aides "advised the president against golfing so soon" after the shooting), resulting in a slew of tweets about Russian collusion, the so-called "fake news media," Americans' reported happiness over the "big Tax Cuts given them by the Republicans," and, just for good measure, his "great friends from NASCAR" ahead of the Daytona 500.
In all fairness, Trump's tweeting spree suggests that his Winfrey dig was probably less about the media mogul herself and more that he probably felt like he was on a roll and couldn't help but continue by hitting back at whatever happened to be on the TV at that particular moment. And, let's be honest, even if you aren't a fan of Winfrey, or the notion of her running for office, does anyone actually think "insecure" would be an appropriate way to describe her?
The real problem with Trump's tweets though is not that he's criticizing Winfrey, or even that he thinks he could defeat her if she went up against him. The most concerning part is that he seems to believe that any of the things he tweeted about over the weekend were actually worth saying — and specifically, that they was worth saying at a time when the the nation is grappling with the loss of 17 lives from yet another mass shooting, because little was done to help prevent it (or any of the other 17 incidents this year alone where guns were fired at schools or colleges, according to Everytown for Gun Safety). In other words? While Trump's Oprah comment might be laughable, his lack of actual commentary on the issues that really matter is anything but.