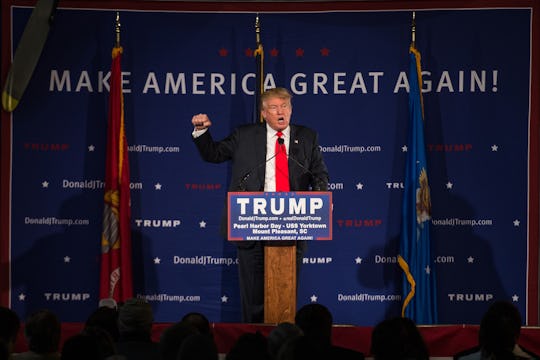 Donald Trump Calls For A Shut Down Of The Internet, Proves He's Totally "That Guy"
Republican presidential candidate Donald Trump called for a shutdown of the Internet until "we can really understand what's happening" and control potential terror threats coming into the United States. Yes, you read that right: Trump wants to break the Internet (albeit temporarily). And yes, he was totally serious. What's more, his plan for doing that impossible thing is equally laughable: Trump thinks he can just call up Bill Gates and get the Microsoft co-founder to just shut down parts of the World Wide Web. A word of advice: Donald, don't be That Guy. Just ... don't.
I'll back up for a second and explain. Early Monday, Donald Trump proposed a ban on all Muslims seeking to enter the United States in the wake of the San Bernadino terrorist attacks. The statement was generally shunned by Republicans and Democrats as Islamophobic, irresponsible, and against the very core of the American ideal. Later that same day, the Republican presidential frontrunner spoke to a crowd of supporters at a campaign rally aboard the USS Yorktown in South Carolina and was able to expand on his earlier, inflammatory statements. Trump told the crowd that in order to stop radical Islamist groups from recruiting American supporters, it might be necessary to shut down the internet in certain areas. His full speech was captured in a YouTube video, but here's the direct quote:
We're losing a lot of people because of the Internet. We have to see Bill Gates and a lot of different people that really understand what's happening. We have to talk to them about, maybe in certain areas, closing that Internet up in some ways. Somebody will say, 'Oh freedom of speech, freedom of speech.' These are foolish people.
The irony here is that Trump's campaign strategy is built on using social media to allow him — a no-holds-barred speaker and natural entertainer — to talk directly to supporters and members of the news media. Still, Donald Trump has made a litany of missteps that show he actually has no clue how the internet works.
There's The Time Trump Retweeted A Photo Of Jeb Bush Wearing A Swastika
In November, Trump retweeted a photo collage of rival Jeb Bush that included an image of the former Florida governor wearing a sombrero and another image of Bush next to a swastika symbol. Trump spokeswoman Hope Hicks told CNN that the collage, which was captioned "ADIOS, JEB aka JOSE," was one of hundreds of retweets Trump sent out without close examination.
And The Time Trump Issued A Campaign Photo Of German WWII Soldiers Instead Of Americans
Over the summer, Trump faced a whirlwind of controversy after he issued a campaign message that featured soldiers wearing German World War II uniforms under an American flag. The campaign ran the photo, a stock image of a WWII reenactment, with a message from Trump: "We need real leadership. We need results. Let's put the U.S. back into business!"
There's The Time He Insulted Thousands of Iowans With A Single Retweet
Within hours of an October poll showing that Trump had fallen behind retired neurosurgeon Ben Carson in the Iowa polls, the candidate retweeted an insulting comment made by one of his supporters. "'@mygreenhippo #BenCarson is now leading in the #polls in #Iowa. Too much #Monsanto in the #corn creates issues in the brain? #Trump #GOP,'" Trump tweeted (only to delete it later).
Monsanto is a Missouri-based manufacturer of herbicides and other agrochemicals. The tweet was later deleted by the campaign and blamed on an intern, CNN reported.
Remember When He Vowed To Tweet The First Democratic Debate, Then Just Retweeted His Supporters?
Trump promised to tweet live commentary during the first Democratic debate, telling his five million followers that the debate would be a good opportunity to "have fun and hopefully learn something." But Trump got bored pretty early on and ended up spending much of his time retweeting his fans and shouting out his own popularity.
What About The Time He Tweeted These Racist Statistics On Gun Violence?
In late November, after an African-American man was beaten at one of his campaign stops, Trump doubled-down on a racist message by manually retweeting fake statistics on gun violence in America. Speaking on FOX News in the days after the incident, Trump said:
Maybe he should have been roughed up, because it was absolutely disgusting what he was doing. I have a lot of fans, and they were not happy about it. And this was a very obnoxious guy who was a trouble-maker who was looking to make trouble.
The trouble for Trump didn't stop there. He then went on to retweet bogus racially charged facts. Trump's graphic cited statistics from the nonexistent Crime Statistics Bureau that 81 percent of whites who are murdered are murdered by African Americans. The true statistic, according to the FBI's most recent report, is around 14 percent.
Images: Sean Rayford/Getty Images, Giphy (2)