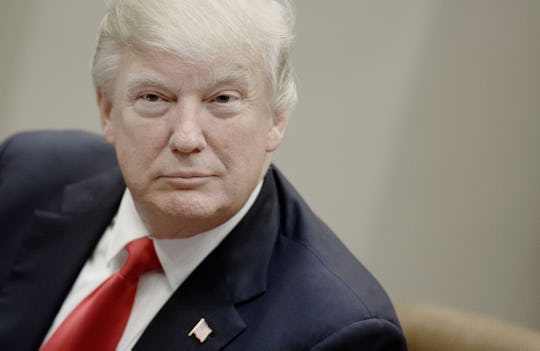 Pool/Getty Images News/Getty Images
Donald Trump Declares April Sexual Assault Awareness Month
The ending of March brings a few things — April Fools Day, April showers, and the third official month of President Donald Trump's presidency. But the ending of March brings the beginning of one month highlighting a very important cause — sexual assault awareness. On Friday, Donald Trump declared April Sexual Assault Awareness Month — which only brings more awareness to the fact that people should come together to support survivors of sexual assault.
In a statement from the White House, Trump proclaimed April to be Sexual Assault Awareness and Prevention Month, stating in a press release:
We dedicate each April to raising awareness about sexual abuse and recommitting ourselves to fighting it. Women, children, and men have inherent dignity that should never be violated.
...As we recognize National Sexual Assault Awareness and Prevention month, we are reminded that we all share the responsibility to reduce and ultimately end sexual violence. As a nation, we must develop meaningful strategies to eliminate these crimes, including increasing awareness of the problem in our communities, creating systems that protect vulnerable groups, and sharing successful prevention strategies.
In addition to making this declaration, according to The Hill, Trump has asked Attorney General Jeff Sessions to create a task force on crime reduction and public safety. It has been tradition, since Barack Obama was in office, for the president to proclaim this each year — but according to Mic, this proclamation comes with just a bit more irony than usual. Twitter users, of course, made note of this, tweeting about and reacting to Trump's proclamation.
Trump has been accused of sexual harassment or assault by 13 different women, though he has denied all of the allegations and has said that he is the victim. Trump's representatives have not responded to Romper's requests for comment.
While the irony should not be lost — we must hold our politicians accountable, even the president, after all — Trump's proclamation brings up the reminder that United States citizens should be doing everything in their power to help victims of sexual assault.
You can help these survivors of sexual assault by donating money to organizations that help them. When you donate money to RAINN, which provides women with a counseling hotline if they've been sexually assaulted, you're helping "improve the lives of thousands of people affected by sexual violence." And you know your money is going a long way — 93 cents from every dollar donated is put towards RAINN's programs and services. The Joyful Heart Foundation, started by Law & Order Special Victims Unit's Mariska Hargitay, uses donations for helping and advocating for survivors of sexual assault, domestic abuse, and child abuse. There are so many more organizations that help victims of sexual assault, and many of them can'd do their work without vital donations and support.
But money isn't the only way to help these survivors. You can be an advocate and speak up for them, too. Or, additionally, be a support system for those you know who have been affected by sexual assault. Listen to what they have to say and let them know that you're there for them. Trump's proclamation should serve as a reminder of how people can help those affected by sexual assault — there is so much that everyone can do.