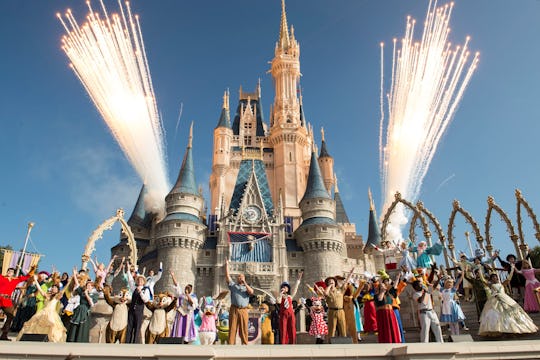 Handout/Getty Images Entertainment/Getty Images
Trump Is Reportedly Keeping This Disney Exhibit From Opening
As the Fourth of July approaches, many families visiting Disney World will want to make a stop at the Magic Kingdom's Hall of Presidents exhibit. The popular exhibit, located in Liberty Square, features robotic replicas of our nation's past and present leaders giving various inspirational speeches, making it perfect for a bit of patriotic education in the midst of roller coaster riding and Mickey Mouse stalking. However, it seems that the Hall of Presidents will remain closed for renovations through the holidays. The reason allegedly has to do with President Donald Trump. Sad!
UPDATE: In an email to Romper, Jacquee Wahler, Vice President of Communications for Walt Disney World Resort, relayed the company's official statement on the Hall of Presidents report, noting, "As we have stated, President Trump will have a speaking role in the Hall of Presidents like every president since 1993. We have been working closely with the White House and the president's recording session has been scheduled. We have repeatedly stated that the attraction will re-open in late 2017." Wahler also reiterated Disney CEO Bob Iger's comments to CNN, in which he stated that there was "already a script that's been written for his team to edit" and that Disney was "hopeful that by the first anniversary of his election, he'll be there with the 44 other presidents that preceded him."
EARLIER: The exhibit has been closed for a few months while, according to a sign out front, it is "being prepared to welcome our new president." That is totally typical. However, the renovation is taking longer than expected, apparently for less typical reasons. According to popular Disney blog WDW News Today, although the theme park had hoped to unveil the newest renovation by the end of June, internal documents are now simply saying that the new opening date for the Hall of Presidents is "Summer 2017," and cast members outside the attraction are informing visitors that it will not be open for the holiday. Disney sources told Motherboard that a fall opening was more likely, and maybe not even then.
According to sources who spoke with Vice (for an article that has since been taken down), the delay allegedly stemmed from problems with Trump recording his robot's speech, though Disney has since rebutted that claim. Neither Disney nor the White House immediately responded to Romper's request for comment.
Ever since President Bill Clinton, the Hall of Presidents show has ended with an animatronic version of the current president giving a hopeful, bipartisan speech about the country. Prior to that, the show ended with a speech from President Abraham Lincoln. When Trump won the election, there was some public controversy about whether or not his robot should give a speech, or just stand silently in the crowd of presidents while the show reverted back to Lincoln. (After all, Trump doesn't always say the most family-friendly things.)
Disney did eventually confirm that Trump would speak in the Hall of Presidents, but the sources allegedly claimed that there had been some hold up with the White House on what exactly he was going to say. (Disney always collaborates with the president's team on writing the speech.)
So what's the hold-up about? Allegedly, given that the various parties have finally agreed on a speech, it seems that Trump has simply not had the time to record it yet.
Until he does, the exhibit will likely stay closed, and a lot of patriotic little kids will find themselves disappointed during their visit to the happiest place on Earth. Hopefully they'll find themselves with a new, shiny exhibit to take pictures with soon.