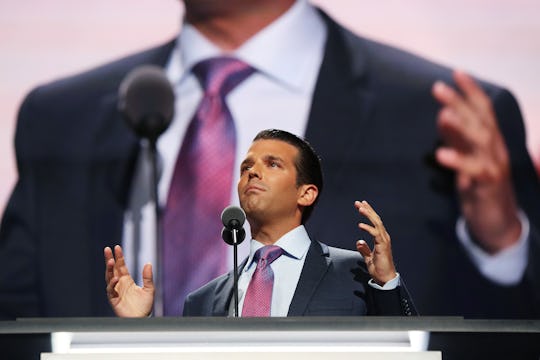 Joe Raedle/Getty Images News/Getty Images
Donald Trump Jr. "I Love It" Memes Are Great
On Tuesday, in what appears to be an attempt to come out ahead of yet another development in the unfolding story about DonaldTrump Jr.'s meeting with a Russian lawyer last June, Trump Jr. himself tweeted out an email chain as if to vindicate himself — but it has failed spectacularly and if anything, could serve as evidence of collusion between the Trump campaign and Russia. But of all the most revealing things within the four pages of emails released by Trump Jr. is a stunning word salad of a response to Rob Goldstone's promise of "incriminating" information about GOP presidential rival, Hillary Clinton. Behold, Trump Jr., from his own email: "If it's what you say I love it especially later in the summer." Donald Trump Jr. "I love it" memes are the new social media hotness right now.
After the story of Trump Jr.'s meeting with a Russian lawyer in exchange for Russian-obtained information on Clinton first broke via The New York Times, Trump Jr. retained counsel, Alan Futerfas. Representatives from Futerfas' law office did not immediately return Romper's request for comment. Trump Jr. issued his own statement in the first tweet releasing emails Tuesday afternoon:
To everyone, in order to be totally transparent, I am releasing the entire email chain of my emails with Rob Goldstone about the meetings on June 9, 2016. The first email on June 3, 2016 was from Rob, who was relating a request from Emin, a person I knew form the 2013 Ms. Universe Pageant in Moscow. Emin and his father have a very highly respected company in Moscow. The information they suggested they had about Hilary Clinton I thought was Political Opposition Research. I first wanted to just have a phone call but when that didn't work out, they said the woman would be in New York and asked if I would meet. I decided to take the meeting. The woman, as she has said publicly, is not a government official. And, as we have said, she has no information to provide and wanted to talk about adoption policy and the Magnitsky Act. To put this in context, this occurred before the current Russian fever was in vogue. As Rob Goldstone said just today in the press, the entire meeting was 'the most inane nonsense I ever heard. And I was actually agitated by it.'
Regardless of the fact that Trump Jr. doesn't face any charges, this hasn't stopped Twitter from lighting him up in some of the most savagely hilarious ways possible.
First, some context:
People were quick to see the intrinsic covfefe levels of meme-hood that Trump Jr.'s "I love it" quote could provoke.
How could "If it's what you say I love it especially later in the summer" not become a meme spectacle, especially with his weird word-smithing devoid of any punctuation to help guide any sense of inflection or comprehension?
Trump Jr.'s words have their own unique musical hook to them as well, which plenty of people were quick to pounce on.
Fans of Leslie Neilsen's Naked Gun may have felt a little familiarity with Trump Jr.'s choice of words.
And there's just so many jokes and memes ripe for the picking, especially when it comes to that whole "later in the summer" conclusion to his response.
As hilarious as these memes and takes on Trump Jr.'s response are, let's also take a quick moment to let the sobering reality of the situation settle in: Trump Jr. thought he could out-news the news by releasing potentially incriminating information about himself before The New York Times could publish the emails they had already obtained. While at first glance this feels like a plot straight out of Arrested Development, we have to remember — this is real life. This is about the democratic sanctity of the office of the President of the United States.
Laughing at Donald Trump Jr.'s stupidity of tweeting out the emails is one thing, but undermining the foundation of American democracy really is no laughing matter.