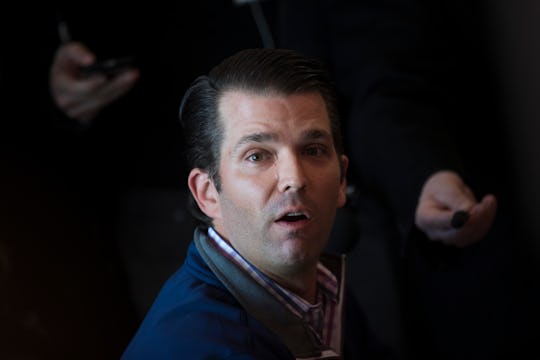 Drew Angerer/Getty Images News/Getty Images
Trump Jr. Mocked The Sexual Assault Claims Against Brett Kavanaugh On IG
Most people would agree that no decent human being would or should make light of rape and sexual assault. And yet, over the weekend, Donald Trump Jr. mocked sexual assault allegations against Brett Kavanaugh, the U.S. Supreme Court justice nominee, on Instagram, according to The Hill. Knowing the first family, it's not surprising that the eldest Trump child would stoop so low in defense of his conservative brethren, but most people find it disgusting nonetheless.
On Friday, CNN reported that a research psychologist named Christine Ford has alleged Kavanaugh and a classmate attempted to rape her at a party one night when they were high school students in the early 1980s. Details of the alleged sexual assault, which Kavanaugh and his peer have denied, according to CNN, were recounted in a letter received by Democratic Sen. Diane Feinstein of California, the ranking Democrat on the Senate Judiciary Committee, over the summer. But that letter didn't become public knowledge until last week — days before Kavanaugh's confirmation hearing — despite rumors of its existence circulating for weeks on Capitol Hill.
After the news broke, the eldest Trump son decided to share his thoughts on the matter, which no one had asked for. And he did so using an error-filled meme posted to his Instagram account on Sunday that both derided and minimized the sexual assault allegations, The Hill reported.
The rudimentary meme shows an image of a crumbled sheet of loose leaf paper scrawled with red crayon that reads, "Hi Cindy, Will you be my girlfriend," alongside "yes" or "no" checkboxes, according to Huffington Post. The meme itself is captioned at the top: "Judge Kavanaughs [sic] sexual assault letter found by Dems..."
Trump Jr. wrote the following in his Instagram caption, which also includes a spelling error:
Oh boy... the Dems and their usual nonsense games really have him on the ropes now. Finestein [sic] had the letter in July and saved it for the eve of his vote... honorable as always. I believe this is a copy for full transparency.
Romper reached out to Trump Jr. for comment, but did not hear back in time for publication.
But Trump Jr. didn't stop there when it came to mocking the sexual assault allegation and, by extension, Christine Blasey Ford, the woman who penned the confidential letter (Ford came forward Sunday in a Washington Post interview). In response to one of the comments on his Instagram post, Trump Jr. wrote, according to Huffington Post:
An anonymous letter from an anonymous source that a senator sat on for over 2 months that's talks about a very public figure who has been scrutinized for decades that the FBI refused to even look at conveniently appears right as he's finishing confirmation?
He continued:
Yea that's credible... you can't really buy that crap can you?
Feinstein said she had reported the letter to the FBI last week, and Ford has offered to testify before the Senate Judiciary Committee during Kavanaugh's confirmation hearing, The Hill reported. Both Democrat and Republican members of the committee have called to delay the scheduled vote so that they can gather more information about allegations, and hear directly from Ford, according to CBS News.
The White House, for its part, stands behind Kavanaugh, and has no plans of withdrawing the judge's nomination, according to Bloomberg News. In fact, the Trump administration plans to launch a counter-narrative that attempts to discredit Ford by focusing on the timing of the allegations, a White House official told Bloomberg.
It's, of course, not surprising that the White House would work to discredit a victim of sexual assault rather than take the allegations seriously. After all, you all know President Donald Trump's history regarding sexual misconduct. Still, as expected as those responses may be, they're disturbing nonetheless, and signal to advocates and decent human beings that the country's rape culture will only get worse — so much worse.