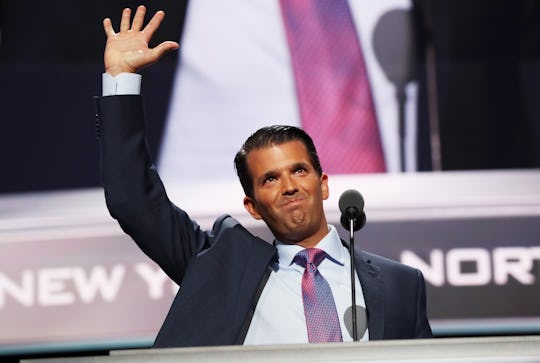 Joe Raedle/Getty Images News/Getty Images
Donald Trump Jr.'s Instagram Prove He Leads A Pretty Normal Life, Despite His Family Name
Next to his sister, Ivanka Trump, Donald Trump Jr. is perhaps one of Republican presidential nominee Donald Trump's most famous offspring. As Donald Trump's first child with ex-wife Ivana, Trump Jr. has been in the public eye since he was born — thanks to having a very famous father and mother. As he continues to live in the public eye, Donald Trump Jr.'s Instagram account shows he is a pretty cool guy who loves his family — aside from the fact that he is worth millions, of course.
Donald Trump Jr. leads a pretty good life, which is definitely apparent through the photos he posts on his Instagram. Trump Jr. works for his father (of course) as the EVP of Development & Acquisitions for the Trump Organization. But in addition to working for the Trump Organization, Trump Jr. has also been hitting the campaign trail for his dad, making sure that his father has a successful campaign and wins the presidency. His Instagram makes it very clear that he is loyal to not only his dad and the Republican party, but his siblings and children of his own. This shows that even the highly successful children of a highly successful businessman (and presidential candidate) can still lead a pretty normal life.
He's Passionate About His Father Becoming President
Trump Jr. was the second of Donald Trump's children to give a speech at the Republican National Convention on Tuesday night. Trump Jr.'s speech was well-received, and many praised his ease of speaking and confidence — the mogul's son looked right at home, in fact, leading many to question whether a future political run was in his future as well.
He's Even More Passionate About Being A Father
By just one glance at Trump Jr.'s Instagram account, you can tell he loves being a father. You can't ignore how many times the businessman posts pictures of him and his children doing super normal and active things — like snorkeling and camping.
The five of Trump Jr.'s children — who span in ages from 2 to 9 — all look incredibly happy in their father's Instagram posts, and you can tell that Trump Jr. is a proud father — just like Trump Sr.
He Loves His Wife
Donald Trump Jr. has been married to wife Vanessa Trump for over 10 years now. Vanessa, 38, is mother of the couple's three sons and two daughters. According to The New York Times, the couple were introduced to each other by Donald Trump Sr. himself after Trump Jr. met Vanessa at a fashion show in 2003. Hey! If Trump's presidential career doesn't work out, he can always be a matchmaker.
He Is An Outdoorsman
Despite being born in New York City (and loving it enough to potentially run for mayor) Donald Trump Jr.'s Instagram pictures show him spending plenty of time in the great outdoors — from hanging out by a campfire, to taking photos with massive fish, to even hiking mountains. Despite being a city boy, Trump Jr. looks right at home in the wilderness.
If anything, Donald Trump Jr.'s Instagram account humanizes him. Yes, he might have a big job for a multimillion dollar company, and a famous dad who is running for president. But at the end of the day, Donald Trump Jr. is just a father who loves his family and spending time outdoors.