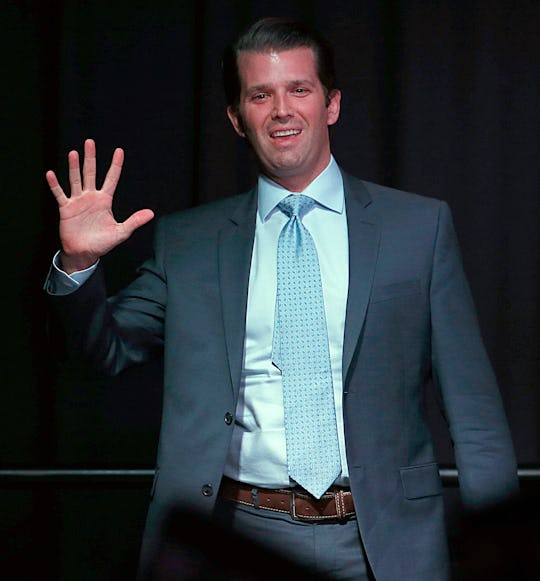 George Frey/Getty Images News/Getty Images
What Is Donald Trump Jr.'s Job? It's All In The Family
It can't be easy, having a name like Donald Trump Jr. Sure, the moniker might come with a perk or two: fancy cars, jaw-dropping bank accounts, Christmas vacations on the moon (I assume, that seems pretty doable for a Trump) so clearly it's not all bad. But how do you make a name for yourself when basically everyone with access to a computer has heard your name, without the Jr. part? And what about work? What sort of job does Donald Trump Jr. have, because we all pretty much know what that other Donald Trump does for a living, right?
Well, luckily for young Donald Jr., who is the son of Trump's first wife Ivana, Trump is not exactly above a little nepotism in his line of work. Trump, also known around these parts as the Republican Presidential candidate, likes to run his businesses as family operations. His daughter Ivanka, son Eric, and of course namesake Donald Trump Jr. all work for the Trump Organization. And while Trump Jr.'s official job title is EVP of Development & Acquisitions Trump Organization and Boardroom Advisor on the Apprentice, lately he has been stretching beyond the boundaries to help out dear old Dad in his own mission: To Take Over The World.
While Trump Sr. is busy trying to become the next President of the United States, Donald Jr. and his brother Eric have reportedly taken over the lion's share of running the family business. As Donald Jr. said in an interview with Morning Joe:
You know, [my father has] a great life, he's got a great job, but I think it's great that he perhaps trusts us to run the business. Just because this is something that's taking 100 percent of his time right now and it's really important for him to see the country get back on track.
While the brothers have been busy running the successful (and don't worry, The Donald has said he would give daughter Ivanka "a turn at the helm" as well), they are still doing their best to show their support for their father's Presidential campaign. All of the Trump children are expected to speak at the Republican National Convention, with 37-year-old Donald Jr. slotted to speak on Tuesday. And just what sort of president does Trump Jr. think his dad will make? No surprise here, he's given him the thumbs-up.
"You have people making deals who have never made other deals, ever in their lives, and these are the deals that our kids and their kids behind them are going to have to live with, forever," Donald Jr. said in that same interview with Morning Joe.
One thing Trump Sr. can count on? His kids will be taking care of business. He might not have been the warm, fuzzy kind of dad, but he managed to instill a crazy good work ethic in his kids.