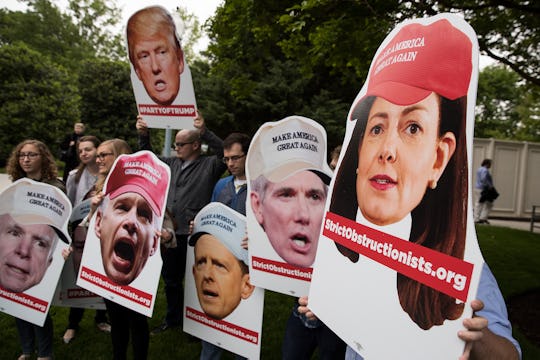 Drew Angerer/Getty Images News/Getty Images
Donald Trump, Paul Ryan Tweets That Perfectly Portray How Awkward Their Relationship Is
Presidential candidate Donald Trump and House Speaker Paul Ryan surely have had their differences about conservative values and political policy. Last week, Ryan said that he wasn't ready to endorse Trump until they found some common ground for their shared party. In the midst of this political standoff, the Internet's many Paul Ryan/Donald Trump tweets perfectly portray how awkward their relationship is and how it might evolve throughout this election season.
The two men released a joint statement after meeting on Thursday morning at the Republican National Committee and insisted that they'd had an "honest" conversation about their differences and were "totally committed" to defeating Democratic candidate and former Secretary of State Hillary Clinton. The meeting meant to work towards unifying the Republican party and resolving some of the bad blood between the GOP stalwarts and the fringes of Trump's campaign — but regardless of the attempt at peacemaking, the duo's respective differences still set off a firestorm of hilarious tweets and media coverage that captured the forced, awkward bromance.
"The U.S. cannot afford another four years of the Obama White House, which is what Hillary Clinton represents," the joint statement put out by both camps read. "That's why it's critical that Republicans units around our shared principles, advance a conservative agenda, and do all we can to win this fall."
Regardless, Ryan still isn't ready to endorse Trump and told reporters this week that he won't "fake" common ground with the presumed Republican nominee. But both men insisted through the joint statement that they took a "very positive step toward unification."
Without further ado, let's have a look at some of the best tweets that portrayed that uncomfortable meeting and relationship:
Both men share the same mission: To destroy Hillary Clinton and to get the Republican party back in the White House. But while the two technically belong to the same party, they don't see eye to eye on a few important public policy issues. Ryan has not been able to get on board with Trump because he's not convinced the billionaires shares the same conservative values as the rest of the GOP. They disagree on many high-profile issues for voters, ranging from where they stand on immigration to raising taxes and minimum wage.
"Of course you're going to have policy disagreements. You always have policy disagreements," Ryan said in an interview with CNN this week. "But are we putting out policies based upon the principles that all conservative and all Republicans share?"
The meeting was highly anticipated for both Washington journalists and social media tuning in through livestream. A true friendship hasn't officially bonded quite yet for the two, but the wheels might be in motion for an endorsement for the real estate mogul. It'll probably an awkward and bumpy road ahead, but your Twitter feed will surely be an entertaining ride, whatever happens.