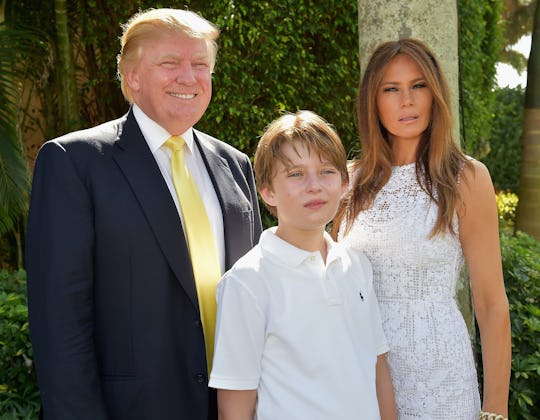 Gustavo Caballero/Getty Images Entertainment/Getty Images
Donald Trump Quotes About Barron Trump Shows He Prides Himself On His Parenting Skills
Donald Trump's 10-year-old son Barron seems to be getting a bit more media attention these days. Perhaps it's because Barron is the baby of Trump's five children, or maybe it's because many believe the 10-year-old so closely resembles his father, who's running for president. Whatever the reason, Trump quotes about Barron Trump reveals Trump is proud of his parenting skills.
In an interview with People, Trump's wife, Melania Trump, (Barron is the only biological child between Trump and Melania), explained that she, and her husband are very "hands-on" when it comes to raising Barron. And Trump shared that he prides himself on his parenting skills.
"I've always prided myself on being a good father," Trump said, and according to People, he also referenced the conservative values he taught his other four children, Donald Jr., Eric, Ivanka, and Tiffany. Trump also added that he tells his children to stay away from drugs, alcohol, and cigarettes. "Because if you're going to start you can't get off!" he said.
In an interview with Parenting about four years ago, Melania Trump shared some insight on how Trump raised a then 6-year-old Barron, and his previous diaper-changing-habits — or lack thereof:
He is very busy. He spends quality time with Barron. They have a beautiful relationship full of respect and love. New York is our home base, but we spend a lot of time in Mar-a-Lago [in Palm Beach, Florida]. There they play golf, spend time together, eat dinner together, and we enjoy family time. It is always a really special time. He didn't change diapers and I am completely fine with that. It is not important to me. It's all about what works for you. It's very important to know the person you're with. And we know our roles. I didn't want him to change the diapers or put Barron to bed. I love every minute of it.
In a 2010 Larry King interview, Trump said then 4-year-old Barron was "a good boy," who enjoys firing people more than he, The Apprentice star himself does.
"We keep it down to a minimum," Trump told People last year, in regards to not relying on a nanny for Barron. "If you have too much help, you don't get to know your children."
"I tell them, 'No drugs, no alcohol, no cigarettes!'" Trump told People, though it's unclear whether Barron has yet received the "no drugs" talk his older half-siblings got.
Trump's lack of diaper-changing habits have come up in the news before. BuzzFeed News recently resurfaced a 2005 interview where Trump likened changing diapers to something that's just not his thing:
If I had a different type of wife, I probably wouldn't have a baby, ya know, cause that's not my thing. I'm really, like, a great father, but certain things you do and certain things you don't. It's just not for me.
He has also been criticized for comments he made that year suggesting he'd "supply the funds" while his wife takes "care of the kids."
As for Melania, who referred to Trump and Barron's relationship as "beautiful" and "full of respect and love," the woman hoping to be America's next First Lady also told Parenting that Barron is in fact a "Little Donald."
"He is a very strong-minded, very special, smart boy," she said. "He is independent and opinionated and knows exactly what he wants."