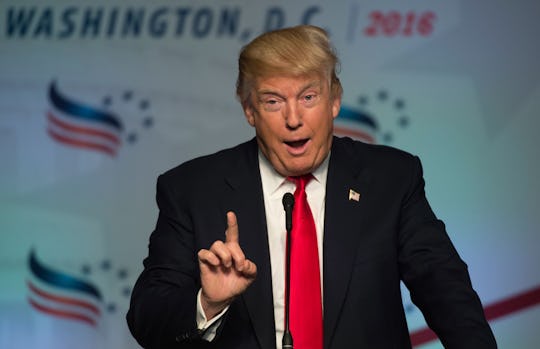 MOLLY RILEY/AFP/Getty Images
Donald Trump Responds To Orlando Club Shooting In The Worst Way Possible
The United States, and the world, woke up to devastating news Sunday morning: Overnight, at least 50 people inside an Orlando nightclub club were killed and scores more were wounded when a gunman with an assault-type rifle and a handgun stormed the club, according to reports. After a hostage situation and a shootout with law enforcement officials, the suspect is dead, and authorities are investigating the incident as a possible act of domestic terrorism. Just hours after the news broke, presidential candidate Donald Trump responded to the Orlando club shooting on Twitter, immediately calling attention to that fact, which, because he's a known anti-Muslim xenophobe, was not the best way he could have chosen to address it.
(Update: The FBI has updated the death toll to 49 victims. The shooter was also killed.)
Update: Just when you thought he'd said enough, Donald Trump has added to his earlier Orlando shooting statement, further tweeting: "Appreciate the congrats for being right on radical Islamic terrorism, I don't want congrats, I want toughness & vigilance. We must be smart!"
Authorities and witnesses are reporting that at about 2 a.m. June 12, just as the gay nightclub, Pulse, was closing, one gunman, U.S. citizen Omar Mateen of St. Lucie County, entered and began shooting. "I heard 20, 40, 50 shots," club patron Joe Alamo told the Associated Press. "The music stopped." Another club-goer told the outlet that there were about 100 people inside the establishment when the ambush started.
What followed, of course, is the sequence of events that Americans have become all too accustomed to after a mass shooting: terrified family members and friends trying to locate people who had been inside Pulse, authorities slowly working out what they know about the suspect (right now, not much has been released publicly), area hospitals going on lockdown as they treated those hurt, and a massive social media response, including the inevitable Donald Trump tweet. Just after 7 a.m., it went live:
"Really bad shooting in Orlando," the tweet reads. "Police investigating possible terrorism. Many people dead and wounded."
On it's face, the tweet looks relatively innocuous, especially compared to Trump's track record of making incendiary, offensive comments in the aftermath of a tragedy. Perhaps the most notable example of the candidate's views on how to solve the problem of terrorism came in December, shortly after a married couple with ties to Islamic extremism killed 14 people at an office holiday party in San Bernardino, California. It was a heart-wrenching catastrophe, but Trump's subsequent proposal of a "total and complete" ban on Muslims entering the United States only exacerbated fear and misplaced distrust of all Muslims seeking asylum from war-ravaged countries like Syria.
Politicians on both sides of the aisle decried Trump's ridiculous remarks, but the sentiment seemed to only swell his support base. Despite the fact that there is no real link between immigration and terrorism, the idea that controlling the Muslim population in the United States would eradicate terrorism persists, and Trump has consistently fueled that dangerous hatred. So, when he immediately latches onto the fact that police are investigating the Orlando nightclub shooting as an act of terrorism, he is implicitly stoking that aversion to Muslims among his followers.
To be clear, it's not just Muslims who commit acts of terrorism. In November, a white anti-abortion gunman killed three in a Planned Parenthood in Colorado Springs, and he is absolutely a terrorist. And not long before that, Dylann Roof, a 21-year-old white man, left behind a racist manifesto when he gunned down nine black churchgoers in Charleston, South Carolina. That's terrorism, too.
But considering Trump's past remarks, any allusion to terrorism can be read as a further indictment of the Muslim population, which only serves to deepen racial and religious divides in this country. His followers lap it up, too: "Muslims again," one tweeted back. "It's a Jihadi," another quipped. "Ramadan = Increased terrorist attacks."
There's pushback in the comments as well ("please educate yourself," Twitter user @y0000000sn tweeted), but as long as influential figures like Trump demonize Muslims, or any group, for violence that only an infinitesimal percentage of that population commits, we're moving backwards. Worse, the strategy of blaming and alienating Muslims could logically lead to some of those abroad, as well as those who are American citizens, developing negative feelings toward Americans who are so quick to judgment and generalizations. So as the death toll continues to climb in Orlando, and information about the gunman surfaces, let's not aim vitriol at Muslims, many of whom are undoubtedly just as devastated as anyone.