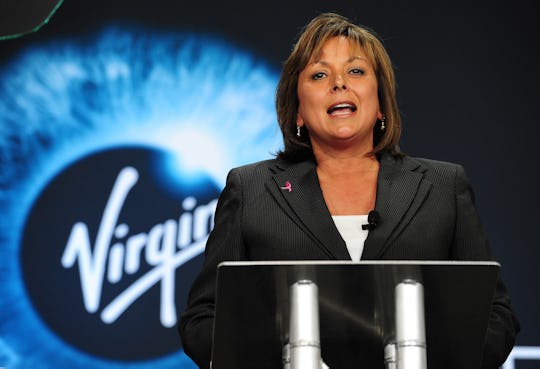 FREDERIC J. BROWN/AFP/Getty Images
Donald Trump Wants New Mexico Governor's Endorsement, Despite Just Making Fun Of Her
At a campaign event in Albuquerque, New Mexico, May 24, presumptive Republican presidential nominee Donald Trump blasted the state's governor, claiming that she was "not doing her job" amid a slew of other unsubstantiated and false statements. But upon hearing that the Republican governor, Susana Martinez, had not ruled out supporting him or voting for him in November — as well at at next month's GOP convention, where she's a delegate — Trump said he wants the New Mexico governor's endorsement, despite the vitriol he spewed at her little more than a week ago.
"I respect her," he told The New Mexican in a phone interview he apparently initiated, and which was published Thursday evening. "I respect her. I have always liked her."
The paper's Robert Nott called the move "a stunning reversal of rhetoric and tone", and it's hard to disagree. Before a crowd of about 8,000 New Mexicans, Trump blamed Martinez for the increase of New Mexicans receiving food stamps and for the state's unemployment numbers. He also falsely claimed that "Syrian refugees are being relocated in large numbers to New Mexico", and even proposed that perhaps he should run for governor of New Mexico, considering how ineffective he believes Martinez to be, so he could "get this place going."
Trump's backtracking came the same day that Republican House Speaker Paul Ryan quietly pledged to support him — after holding out for nearly a month — after Trump all but clinched the nomination when competitor Texas Sen. Ted Cruz dropped out of the race. At the time that Trump attacked Martinez, who's widely considered to be a rising star in the Republican party, Ryan was one of several prominent Republicans to publicly defend her.
And Trump clearly knows that winning Martinez's backing could only help him, because she belongs to two demographics that largely despise him: Hispanics and women. In fact, when Trump kicked off his campaign last summer, he referred to Mexicans as both "murderers" and "rapists" and suggested building a giant wall along the Mexico-U.S. border to keep immigrants out of the country. Martinez promptly called those comments "horrible" and "uncalled for."
The governor also criticized Trump's language and politics at a event where wealthy GOP donors were in attendance in April, and, of course, ripped back against Trump's recent ruthless critique of her performance. "The things that he was saying are not addressing the real issues that New Mexico is facing," she said during an interview with NBC News. "Those are the thing that I want to hear, and I know New Mexicans deserve to hear."
Martinez told The New Mexican Thursday that she is unequivocally not voting for Democratic candidate Hillary Clinton, and that she wants to hear Trump address New Mexico's "labs and military bases" before she decides whether she'll support him. Later that day, Trump told the paper that he plans on "building up ... military bases in New Mexico" at the same time he said he would like to have Martinez's endorsement.
With his complete 180 on Thursday, the notoriously thin-skinned Trump displayed once again his penchant for slinging insults only to rescind them when it's beneficial for him. After dubbing Ted Cruz "Lyin' Ted" while the two were competing for the nomination, he told a crowd in San Jose Thursday, "Ted Cruz is no longer a liar!" and "We love Ted!" His latest display shows that he's unpredictable and capricious, as well as unable to think strategically and long-term.