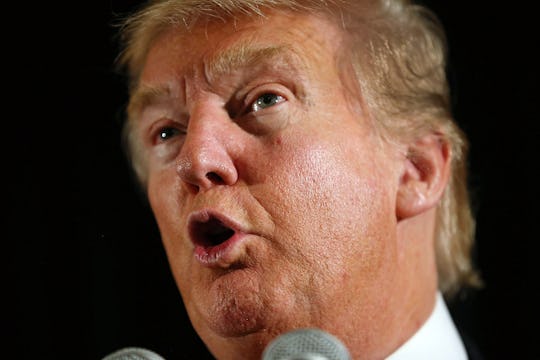 Joe Raedle/Getty Images News
Donald Trump Was Nominated For The Nobel Peace Prize & It's Actually Not A Joke
I can't quite believe I am typing this, but according to The Telegraph, Donald Trump was nominated for a Nobel Peace Prize. The nomination was made anonymously, but is thought to be from a fellow Republican politician, who reportedly put forth Trump's name just before the deadline on Monday. According to The Independent, the nomination cited, "[Trump's] vigorous peace through strength ideology, used as a threat weapon of deterrence against radical Islam, ISIS, nuclear Iran and Communist China" as the reason why he deserves to be considered for the Prize. But news of the nomination mostly just suggests that the anonymous individual doesn't exactly understand what the Nobel Peace Prize is about.
Of course, Donald Trump's proposed plans are far from peaceful: he wants to bar all Muslims from entering the United States, and wants to build a wall to keep Mexican immigrants out of the country — the same people he also non-apologetically called criminals and rapists, according to the Washington Post. He also has no problem hurling insults in every direction: at Fox news anchor Megyn Kelly, disabled reporter Serge Kovaleski, Rosie O'Donnell, and the entire state of Iowa, just to name a few. (And let's not forget the time he compared fellow Republican presidential candidate and former neurosurgeon Ben Carson to a child molester.)
Thankfully, the other Nobel Peace Prize nominees stand a much greater chance of actually winning than Trump. According to The Independent, Trump is up against Pope Francis, a campaigner for ISIS rape survivors, and Colombian peace negotiators.
But even if Trump's chances of winning are slim, even the mention of his name among other nominees who have actually worked seriously for peace and fairness is insulting. Of all of the things that Trump is, peaceful is not exactly one of them (this is the same man who vowed to "bomb the sh*t out of [ISIS]"). And it's also insulting to past winners, like Malala Yousafzai, Nelson Mandela, and Elie Wiesel.
But, according to The Telegraph, Kristian Berg Harpviken, director of Oslo's Peace Research Institute, said it's more likely that Trump's nomination is little more than a publicity stunt:
The person who suggested it may genuinely mean it, but the person who suggested it may also realize that the very fact that Trump's nomination gets confirmed has considerable interest in its own right, and that all publicity is good publicity.
It sounds like this wouldn't be the first time a completely un-peaceful public figure has been nominated for the esteemed prize though. According to The Telegraph, Adolf Hitler, Josef Stalin, and Vladimir Putin have all made the nomination list in years past.