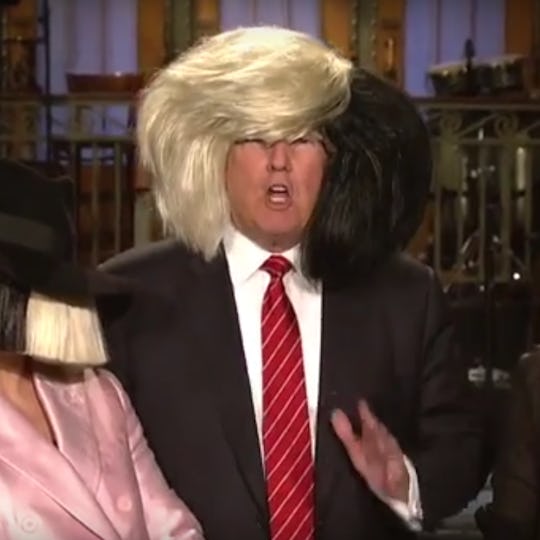 Donald Trump Was On 'SNL' For 12 Minutes, So Will All The Candidates Get The Same Time?
Saturday Night Live just set a new precedent. Republican presidential candidate Donald Trump hosted the most recent episode of the sketch comedy show, which has people wondering, how the equal time rule will play into this? The Federal Communications Commission mandates that all political candidates be given equal opportunity to appear on broadcasts, so does SNL need to let everybody have a crack at hosting now?
We've seen political candidates appear on SNL before, including Democrat Hillary Clinton just last month. But it's usually just a brief cameo. This time, Trump was the host of the show, albeit a sparse host. Trump only appeared in the monologue and a handful of sketches, clocking in a paltry 12 minutes of screen time, according to Variety. Why so little time? Was it just because he's not very funny? Maybe not. Check out the official FCC guidelines on the matter:
If any licensee shall permit any person who is a legally qualified candidate for any public office to use a broadcasting station, he shall afford equal opportunities to all other such candidates for that office in the use of such broadcasting station: Provided, That such licensee shall have no power of censorship over the material broadcast under the provision of this section.  No obligation is hereby imposed under this subsection upon any licensee to allow the use of its station by any such candidate.  Appearance by a legally qualified candidate on any —
(1) bona fide newscast, (2) bona fide news interview, (3) bona fide news documentary (if the appearance of the candidate is incidental to the presentation of the subject or subjects covered by the news documentary), or (4) on-the-spot coverage of bona fide news events (including but not limited to political conventions and activities incidental thereto), shall not be deemed to be use of a broadcasting station within the meaning of this subsection.
Nothing in the foregoing sentence shall be construed as relieving broadcasters, in connection with the presentation of newscasts, news interviews, news documentaries, and on-the-spot coverage of news events, from the obligation imposed upon them under this Act to operate in the public interest and to afford reasonable opportunity for the discussion of conflicting views of issues of public importance.
SNL certainly isn't a newscast, interview, documentary, or coverage of a news event. It looks like NBC painted themselves into a corner when they asked Trump to host. But that doesn't mean that they need to invite Bernie, Hillary, and that kitchen sink full of Republican party nominees to host during the next two seasons. NBC is only required to give 12 minutes on their network if other candidates request it; that could be anything from Chris Christie joining in on a day-drinking segment with Hoda and Kathie Lee during The Today Show (yes, please) to Ben Carson showing up for a cameo on The Blacklist (please, no). Maybe Jeb Bush will be a guest judge on America's Got Talent! I bet he loves ventriloquists. This, if for no other reason, is why you should be super happy that Trump hosted SNL. NBC may very well be completely bonkers for the next year, and I for one can't wait.
Images: NBC Universal