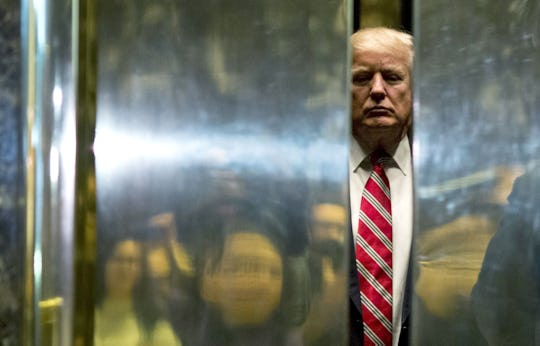 DOMINICK REUTER/AFP/Getty Images
Trump's Approval Rating Among Women Is Abysmal
A new poll related to president-elect Donald Trump is out, and he's not happy with the findings. According to a new CNN/ORC International poll taken by phone Jan, 12-15, 2017, Trump has an overall approval rating in the days before his inauguration of just 40 percent. Donald Trump's approval rating is at a historic low, especially among women, according to this latest poll.
The poll, conducted by ORC International, a market-research agency, interviewed 1,000 American adults in January, 500 by landline and 500 by cell phone. It was released early today, and finds that Trump's numbers are the lowest of any recent president. By comparison, Barack Obama in 2009, George W. Bush in early 2001, and Bill Clinton late in 1992 all had higher ratings just before or when they took their oaths.
And it's not just Trump's behavior during the election that gives Americans pause. According to the poll:
Trump's wobbly handling of the presidential transition has left most Americans with growing doubts that the President-elect will be able to handle the job. About 53% say Trump's statements and actions since Election Day have made them less confident in his ability to handle the presidency...
It appears that many people don't believe Trump is handling his transition to the presidency well, just days before he's set to be inaugurated.
One person who doesn't believe the numbers is Donald Trump himself. In a tweet this morning, he said, "The same people who did the phony election polls, and were so wrong, are now doing approval rating polls. They are rigged just like before."
But you can look at the poll results for yourself, and decide whether the questions seem unfair or biased against Trump in some way to lend support to the idea that it might have been rigged. The questions seem fairly straightforward, and the results clearly source past polls and trends for easy comparison.
The numbers among women who were polled are even more telling. When asked, "And what kind of President do you think Donald Trump will be? Do you expect that Trump will do a very good job as president, a fairly good job, a fairly poor job, or a very poor job?," only 19 percent of women responded with "very good." In comparison, 39 percent chose the "very poor" option.
Additionally, poll respondents were asked, "Have Donald Trump's statements and actions since Election Day made you more confident or less confident in his ability to serve as president?" Of the women who answered, 61 percent said they were less confident.
This isn't the first poll that's given Trump a less-than-stellar review since Election Day. In early January, a Gallup poll found that most Americans don't think Donald Trump can handle being president. Even then, the findings suggested:
In fact, Trump sports deficits in public confidence in his ability to perform key presidential duties as compared to averages of presidents Barack Obama, George W. Bush, and Bill Clinton before they moved into the White House, the pollsters found.
And since Trump seems fond of suggesting that he's a man of action who'll get things done for America, it's telling that that earlier poll found that, "most Americans (60 percent) believe Trump will be able to get things done with Congress, but even there he comes up far behind his predecessors — the average number of Americans with confidence in Obama, Bush and Clinton to work with Congress was 82 percent."
Interestingly, of the people polled in the CNN/ORC poll, an equal number had a "favorable opinion" of a well-known female leader, Queen Elizabeth of Great Britain. 79 percent of both the men and women polled seem to be quite fond of the Queen, as compared to the future leader of our own country.
Will Trump be able to turn these numbers around? His approval rating is nearly 20 points higher among men than women, and that's not likely to change before Election Day. And only time will tell how women will feel about his presidency as a whole. But it's not looking good so far.