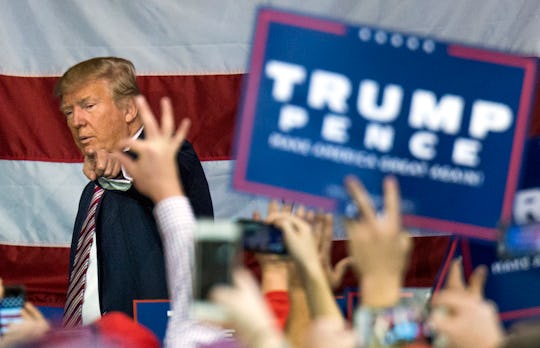 Ty Wright/Getty Images News/Getty Images
Donald Trump's National Political Director Is Bailing & It's More Bad News For The GOP Nom
The day after the final presidential debate has arrived, and already, things are not looking fantastic for GOP candidate Donald Trump. Aside from his dismal showing at Wednesday night's debate, according to Politico, Trump's national political director has stepped away from the campaign for "personal reasons." Jim Murphy told the outlet, "I have not resigned but for personal reasons have had to take a step back from the campaign."
Murphy joined Trump's campaign in June, replacing former national political director Rick Wiley who reportedly left the Trump camp over a rift with former campaign manager Corey Lewandowski. Murphy, a Harvard graduate who worked as senior political adviser to former presidential candidate Bob Dole during both his 1988 and 1996 campaigns, is a managing partner at JLM Consulting.
The timing of Murphy's exit, the day after Trump's third and final debate with Democratic candidate Hillary Clinton, has unsurprisingly raised more than a few eyebrows. After all, there are just over two weeks left until the election. Murphy is reportedly a close ally of former Trump aide Paul Manafort, who left the campaign in August, and served briefly as the deputy political director for the Republican National Senatorial Committee in the mid-1980s, according to Politico.
Trump has been having a rough few weeks and it couldn't have been easy to be one of his top advisers, to put it mildly; First, The Washington Post released the now-infamous Trump Tape (a 2005 audio recording of Trump making lewd, offensive comments about his preferred treatment of women). Instead of taking it on the chin and admitting his wrong doing, Trump dismissed his comments as "locker room banter."
Not long after the Trump Tape was released, women began to come forward with allegations of sexual misconduct; Again, Trump was dismissive, even going so far as to call the women unattractive, insinuating that he would not have touched them because they were not beautiful enough for his taste in the first place.
Then there was Wednesday night's debate. Where to begin? As a well-seasoned political adviser, what must it have been like to watch Donald Trump make mistake after mistake when what he really needed to be doing was prove that he had the calm, measured demeanor of a man who could potentially become the Commander in Chief? As Clinton easily baited him, Trump sputtered and made little sense, calling her a "nasty woman," referring to Hispanics as "hombres," and interrupting Clinton at every turn.
What must have felt like an absolute nightmare for his advisers was also the exact moment Trump, who has seen a sharp drop in his polling numbers in recent weeks, also refused to say that he would accept the outcome of the election if he loses. All in all, the Trump campaign behind closed doors was likely in a state of chaos.
While there have been rumors swirling that Murphy, who was in charge of swaying the battleground states, has wanted to leave Trump's camp since Manafort left in August, timing truly is everything. Waiting to jump ship until the day after Trump's subpar performance at the final election might not have been intentional... but it certainly leaves a lot of questions unanswered.
A spokesperson for Donald Trump did not immediately respond to Romper's request for comment.