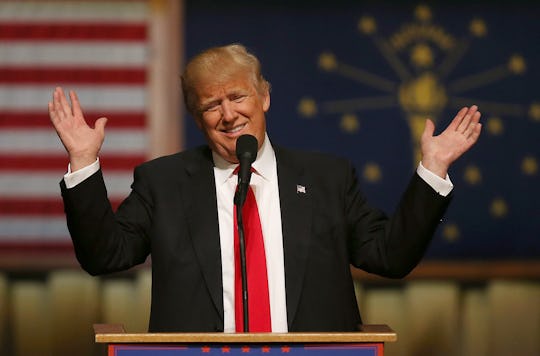 Joe Raedle/Getty Images News/Getty Images
Donald Trump's Rafael Cruz Comments Prove How Ridiculous The GOP Race Has Become
What won't Donald Trump say? The Republican front-runner has made misogynistic, racist, Islamophobic, and just overall problematic statements – to say the least – since announcing his candidacy. And, as demonstrated by a number of the Republican presidential debates, the GOP candidates have, too often, collectively veered off from actual policy discussions, to launch low and meaningless attacks on one another. Trump's latest attack on GOP candidate, Texas Sen. Ted Cruz (who in less attention-grabbing ways supports similarly-detrimental immigration policies as Trump), now involves his father, Rafael Cruz — and Trump's Rafael Cruz comments prove how ridiculous the GOP race has become.
In a phone interview with "Fox & Friends" on Fox News on Tuesday, the day of Indiana's primary, Trump suggested that Rafael Cruz was with Lee Harvey Oswald before President John F. Kennedy was assassinated.
"...His father was with Lee Harvey Oswald, prior to Oswald's being, you know – shot," Trump said. "The whole thing is ridiculous. What is this? Right prior to his being shot. And nobody even brings it up, I mean, they don't even talk about that. That was reported – and nobody talks about it." Trump then asked what Rafael Cruz was "doing with Lee Harvey Oswald, shortly before the death, before the shooting," calling the imagined scenario "horrible."
Trump's source for this claim? Apparently he was citing a story produced by the gossip tabloid, The National Enquirer, which previously endorsed Trump – but no surprise there. Cruz responded to Trump's claims about his father by calling him a "pathological liar," among other things.
"This man is a pathological liar, he doesn't know the difference between truth and lies," Cruz said at a press conference in Evansville, Indiana. "He lies practically every word that comes out of his mouth. And, in a pattern that I think is straight out of a psychology text book, his response is to accuse everybody else of lying."
Trump's allegations against Rafael Cruz immediately began trending on social media Tuesday, even sparking a hashtag on Twitter, #Trumpconspiracytheories, that mocks the real estate mogul's claims.
Despite the extreme nature of Trump's statements, he's still significantly leading in the polls in Indiana. According to a new NBC News/Wall Street Journal/Marist poll, Trump is leading Cruz by 15 points in Indiana, with Trump polling in at 49 percent of the Republican support, Cruz coming in at 34 percent, and Ohio Gov. John Kasich polling in at 13 percent.
Regardless of your political views, Trump's allegations of Rafael Cruz are trending today, and not the GOP candidates policies, and that's something everyone should worry about. As voters make their way to the polls, policy should be the focus, not gossip-tabloid headlines.