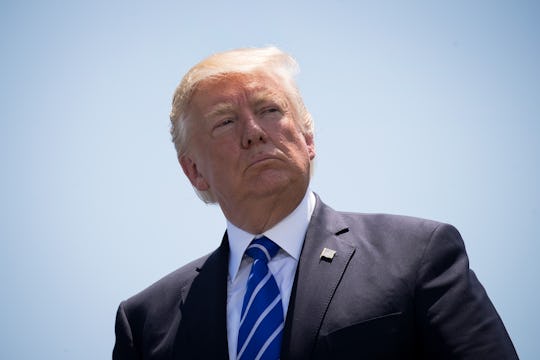 Drew Angerer/Getty Images News/Getty Images
Trump's Response To Roger Ailes' Death May Highlight Their History
Thursday morning came with the news that Fox News creator Roger Ailes died at the age of 77. Since then, his wife has made a public statement regarding his death, and while Donald Trump's response to Roger Ailes' death has yet to come, when it does it's sure to show that these two have had quite the long history together. As I'm sure many of you know by now, Ailes was considered to be an important ally to Trump during the 2016 election with many outlets commenting that he, in fact, paved the pay to Trump's victory.
That being said, even though this may seem like an ideal friendship for President Trump, there were reports circulating all the way back in October 2016 that there was actually bad blood between these two men. During the Vanity Fair New Establishment Summit, New York magazine's Gabriel Sherman revealed that Trump and Ailes were no longer seeing eye to eye on many different matters. "Ailes's camp said Ailes learned that Trump couldn't focus—surprise, surprise—and that advising him was a waste of time," Sherman stated. "These debate prep sessions weren't going anywhere."
Meanwhile, Vanity Fair contributing editor Sarah Ellison added a different look from Trump's point of view, saying that: "Even for the second debate, Ailes kept going off on tangents and talking about his war stories while he was supposed to be prepping Trump."
With that in mind, it'll be interesting to see how Trump chooses to acknowledge Ailes' death. Will it be a heartfelt sentiment or shed further light on the discord that may have existed between the two of them later last year? It's hard to say, especially considering how busy Trump is right now dealing with other matters. Perhaps he won't even have time to issue a response, though I very much doubt that'll be the case. Trump rarely misses out on a chance to tweet about something.
As far as the general public goes, though, the news of Ailes' death has been somewhat mixed, to say the least, in light of the sexual harassment lawsuits that resulted in him losing his job back in July 2016 after multiple women came forward, including former Fox News anchor Megyn Kelly. Not that Trump will likely bring any of that up when/if he makes a remark about Ailes' passing. But it could impact the way he chooses to respond, given the scandal that seemed to follow Ailes. I suppose only time will tell. But for now, we wait.