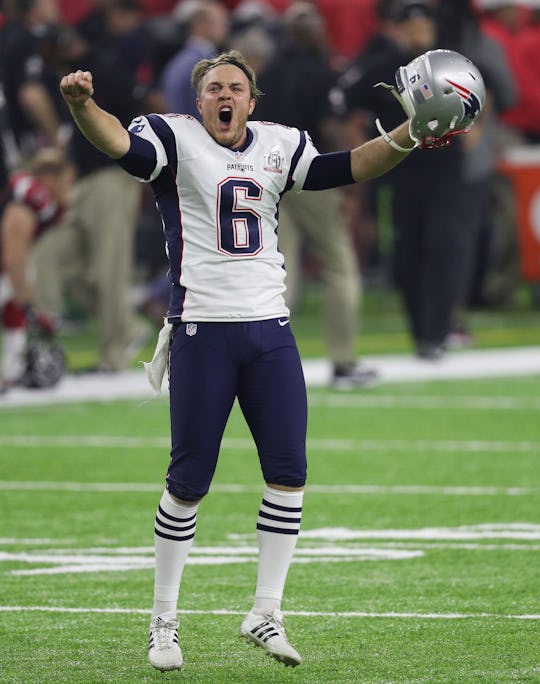 Patrick Smith/Getty Images Sport/Getty Images
How Trump Responded To The Patriots' Victory
When the refs blew the whistle on the second quarter, nobody expected the New England Patriots to win Super Bowl 51. The beleaguered team was down 21-3 when Lady Gaga took the stage, and it was looking bleak. Despite the fact that he predicted they would win during his pregame interview with Bill O'Reilly, President Donald Trump left his Super Bowl viewing party early (and presumably in a snit). So I was dying to find out Trump's response to the Patriots winning the Super Bowl.
It's perfectly possible that Trump is clairvoyant. When he sat down with Bill O'Reilly on The O'Reilly Factor before the big game, he told the Fox host:
I like [Patriots owner] Bob Kraft, I like Coach [Bob] Belichick, and Tom Brady's my friend. Tom's a winner.
Trump is a longtime fan of people who win; he, himself, likes to win a whole lot. He has a history of getting terribly upset if anyone even hints that he didn't win at everything, and so it makes sense that he would pick a team with a proven track record of... well, winning. He said to O'Reilly:
You know, there's less pressure on the Patriots because they've been there. You know, once you've won, and you've done it, and they've done it, once you've done it there's a lot less pressure. So we'll see what happens but you know you have to stick up for your friends.
So how did he feel when the Patriots turned the game around in the most shocking turnaround in Super Bowl history to win against the Atlanta Falcons in overtime?
Pretty damn good.
Trump was especially happy to call the team "total winners", which is clearly much better than being a partial winner. Many savvy social media mavens noted the similarities between Trump's surprise win and Patriots' quarterback Tom Brady's success on the field.
Even Trump's son wryly noted the similarities other people might not notice.
They both won victories that no one thought they could win, they've both had their own scandals (Brady had Deflategate, Trump's scandals stretch far and wide), and the two men are reportedly friends. In fact, when Trump saw his buddy losing, Uproxx reported that he left the viewing party he was hosting at his Palm Beach golf club.
Oh, ye of little faith. The Patriots won in overtime 34-28, and Trump must have been scrambling to access his Twitter to send out his congratulations.
All's well that ends well, I suppose. Now back to the business of making America great again, right?