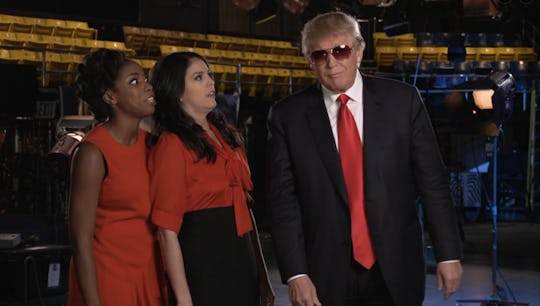 NBC
Donald Trump's 'SNL' Cold Open Was Missing A Key Element
He's hosting Saturday Night Live for the second time, but Donald Trump's SNL cold open was missing a very key element: The Donald himself. The sketch was the MSNBC Democratic Forum, hosted by Rachel Maddow (Cecily Strong). Taren Killam played a stoic Martin O'Malley, Kate McKinnon a smug Hillary Clinton, and — surprise! — Larry David as kooky Bernie Sanders. While O'Malley's appearance was very brief, Clinton stuck around to talk about how relatable she was ("I love eating hush puppies... and wearing Hush Puppies!"), and Sanders was, well, a crazy old man. (Signature line: "I'm Bernie Sanders, and I want your vacuum pennies!")
But where was Trump? Is he too good for the cold open? Was he busy getting a last-minute spray tan backstage? OMG, did he walk out of the show just before it aired? Personally, I'm actually glad that he skipped it. The cold open often sets the tone for the whole show, and Trump is notably not a good actor or funny person. We've seen this firsthand, back when Trump hosted in April of 2004.
In that cold open, an SNL-themed version of The Apprentice starred Trump, Amy Poehler, and Finesse Mitchell. "Amy, Jimmy, Finesse," Trump begins, "Your task for this week was to prepare an episode of Saturday Night Live for me to host. We just finished the dress rehearsal. How do you think it went?" His delivery is so wooden, he almost seems like he's attempting to parody himself. The sketch was written by Tina Fey, but the dialogue made him look foolish. Poehler defends the rehearsal saying in the sketch, "Maybe we didn't achieve our main goal of getting people to laugh…" But eleven years later, they finally have, by eliminating Trump entirely.
The funniest part of the 2004 open is the part where Trump doesn't appear: a fake ad for Frasier during the "commercial break," narrated by Chris Parnell. The honor of saying "Live from New York, it's Saturday Night" went to Trump's other Apprentice advisor, Carolyn Kepcher. TV.com reported that Trump wanted to say it, but Fey gave the line to Kepcher because "he's already a billionaire."
Based on that performance, I would have said that it's impossible for Trump to be funny, and it looks like maybe the SNL writers agreed. I think they were smart to keep him out of it this time around, and let him stick to doing what he does best: talking about how great he is. Check out the 2004 cold open; I dare you to disagree. Hey Donald, maybe keep your day job?
Images: NBC Universal (2)