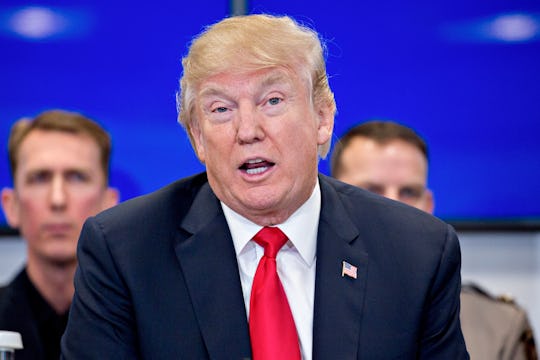 Pool/Getty Images News/Getty Images
Donald Trump's Super Bowl Statement Subtly Shaded Take A Knee
After months of President Donald Trump tweeting his criticisms of the Take A Knee movement, it's only expected that he would have something to say about the biggest football event of the year. Instead of tweeting himself, Trump issued a statement about this year's Super Bowl.
Update: Donald Trump tweeted after the Super Bowl aired a congratulatory message for the Eagles. "Congratulations to the Philadelphia Eagles on a great Super Bowl victory!" the tweet read.
Earlier: Shortly before the game kicked off, Press Secretary Sarah Huckabee Sanders tweeted out Trump's statement, which is ultra-focused on the United States Armed Forces. Even though the statement did not mention Take A Knee, it seems to be in reference to the movement, considering some critics believe that NFL players kneeling during the national anthem is disrespectful to the nation's Armed Forces.
Trump's statement reads:
As many Americans come together to watch the Super Bowl, Melania and I extend our greetings and appreciation for those who make occasions like this possible, particularly the brave men and women of our armed forces. Though many of our nation's service members are unable to be home with family and friends to enjoy this evening's American tradition, they are always in our thoughts and prayers.
Yes, Trump really used the words "thoughts and prayers," despite the phrase being a huge meme. In fact, this was the second time Trump used the phrase on Sunday, the first time being in reference to the Amtrak crash in South Carolina.
His statement continues:
We owe these heroes the greatest respect for defending our liberty and our American way of life. Their sacrifice is stitched into each star and every stripe of our Star-Spangled Banner. We hold them in our hearts and thank them for our freedom as we proudly stand for the national anthem. We send our best wishes for an enjoyable Super Bowl Sunday. May God bless and protect our troops, and may He continue to bless the United States of America.
Vice President Mike Pence retweeted the statement, but as of 8:00 p.m. Eastern Time, Trump did not.
Football player Colin Kaepernick began the Take A Knee movement in the summer of 2016, by simply sitting on the bench during the national anthem preceding a game one day, as explained by the Independent. Eventually, sitting on a bench became taking a knee, and once Kaepernick's message gained momentum, other players started to join him. The movement aims to protest police brutality against people of color, namely black men.
"I am not going to stand up to show pride in a flag for a country that oppresses black people, and people of color," Kaepernick said in a press conference after he abstained from standing for the national anthem for the first time, according to the Independent. "To me, this is bigger than football, and it would be selfish on my part to look the other way. There are bodies in the street, and people getting paid leave, and getting away with murder."
As the movement gained traction, with many other football players participating, Trump began to take notice. And, Trump being Trump, he began to share his thoughts. His very-much-rooted-in-racism thoughts.
"Wouldn't you love to see one of these NFL owners, when somebody disrespects our flag, to say, 'Get that son of a b*tch off the field right now, out, he's fired. He's fired,'" Trump told the crowd at a campaign rally in Alabama in September 2017, the Independent reported. "You know, some owner is going to do that. He's going to say, 'That guy that disrespects our flag, he's fired.' And that owner, they don't know it [but] they'll be the most popular person in this country."
Trump also shared his thoughts on the matter on his favorite platform, Twitter. He tweeted about Take A Knee on multiple occasions, saying it is disrespectful to the United States, the flag, and the armed forces, suggesting that the protests caused low ratings for the NFL, and calling for NFL players who participate to be fired.
Vice President Mike Pence was also a vocal opponent of the Take A Knee movement. He was so opposed, in fact, that he wasted about $250,000 to make that a known fact. In October, Pence flew to Indiana to attend a football game between the Indianapolis Colts and the San Francisco 49ers. During the national anthem, several players took a knee as part of the protest — as they had been doing for more than a year, according to Vanity Fair. Pence promptly walked out of the game, which Trump had asked him to do should the players kneel during the national anthem. Many criticized him for walking out, calling it a pre-planned stunt, considering those players had been kneeling at games for over a year, so it was extremely likely they would do so at that game.
Pence and Trump both tweeted about the incident, backing their alleged stunt and doubling down on how the protests were disrespectful to American soldiers, the flag, and the national anthem.
Considering Trump's history of criticizing NFL players for exercising their right to Take A Knee, it's no surprise that Trump chose to subtly acknowledge it on Super Bowl Sunday, as opposed to simply tweeting about the best chips and dip flavors like everybody else.
Check out Romper's new video series, Romper's Doula Diaries:
Watch full episodes of Romper's Doula Diaries on Facebook Watch.