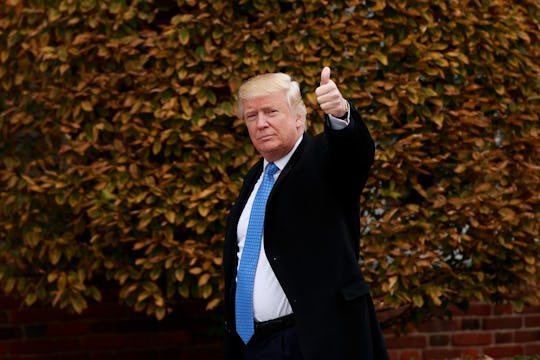 Drew Angerer/Getty Images News/Getty Images
Donald Trump's Thanksgiving Message Asks For Unity, Which Our Country Needs More Than Ever
It's Thanksgiving Day — the unofficial transition point between Halloween into Christmas, from fall into winter — and after a contentious election season, a welcome time for Americans to take a breather and gorge on turkey, stuffing, and pie. So much pie. It's also a time of transition for our soon-to-be next president as he moves from his glitzy Manhattan high-rise life of luxury to the historic, staid halls of the White House. In this time of transition, President-elect Donald Trump's Thanksgiving message asks for unity, in the full spirit of this great American holiday.
On Wednesday evening, Trump posted the brief video message to his official Transition 2017 YouTube channel. Dressed in a somber black suit jacket, white shirt, and blue checked tie, Trump appeared subdued as he delivered his Thanksgiving remarks to the camera, clearly reading off a teleprompter. Trump began with a rather circular, Yogi Berra inspired opener: "We are very blessed to call this nation our home," he said. "And that's what America is: It is our home." For the next nearly two minutes, Trump emphasized the need for our country to come together, to "heal our divisions" and "move forward as one country" and, in a shocking moment of self-awareness, recognized that it has been a "long and bruising" election cycle.
Trump name-checked President Abraham Lincoln, who made Thanksgiving a federal holiday in 1863 — right smack in the middle of the American Civil War. While Trump doesn't specifically mention the Civil War itself, the meaning of his mention isn't lost — of why the holiday came to national observance during a time of bloodshed and divisions. "President Lincoln called upon Americans to speak with one voice and one heart," Trump said. It's true that our country feels more divided than ever and I'd argue it's fair to say America feels as though it's engaged in its own political and ideological civil war right now.
Trump acknowledged that our country can't heal overnight, but urged every citizen to engage in a "great national campaign to rebuild our country." After a minute and a half of telling Americans what we should be doing once we're finished stuffing our faces with turkey, Trump finally expressed his gratitude and reminded us to do the same: "Let us give thanks for all that we have."
But for a lot of people in this country — like the 13.1 million children facing hunger in the United States, Standing Rock protesters sprayed with water cannons and tear gas by police in freezing temperatures, thousands of Muslim Americans who fear their future under a Trump administration, and nearly 2 million young undocumented immigrants who fear deportation during Trump's presidency — that's a pretty hard message to swallow even on a day like Thanksgiving. It only goes to show that Trump and his transition team have a lot of work ahead of them beyond his bland call for "unity" around Thanksgiving tables Thursday.